I met Aimee Laine last year while at Scribophile. She even helped me with Shadow Cat, reading and critiquing it from beginning to end. Wonderful person; wonderful critter. This month she had her debut release, Little White Lies. Woot! And today she's joined us for an awesome interview. I haven't read Little White Lies yet, but I know from personal experience from working with her at Scribophile and reading her other works that she's a fantastic writer, so definitely check out her debut release!
Tell us about your most recent publication.
On July 1st, my debut novel, Little White Lies released. While the book blurb really does a great  job of summarizing, I'll give the even shorter version. Charley Randall has screwed herself over 3 times by giving up Wyatt Moreland as the love of her life. She has altruistic reasons for doing it, but now, after 200 years as a shape-shifter, she's got a serious choice to make because her time is running out to tell him about herself. If she does, he could leave. Or he could fall in love with her again. So far, everyone that's read it wants them to hook up and luckily for them, I'm a romance writer … so they will … probably. 🙂
Which of your characters do you relate to most?
Charley. She's tough. She's the rock of the family. She's logical and caring and wants what's right for everyone. She's the 'mom' but not 'the' mom if that makes sense. She's the one who fails to take care of herself over doing what's best for others. That, unfortunately for her, is what consumes her life and fails to let her experience the true joy of love. I, on the other hand, have that as I've been married to my high school sweetheart for 17 years as of August 2011.
Do you have any advice for other writers?
I have one big, huge, humongous piece of advice. For every story you write, let it sit (in days) for at least half of the number of pages it ended up being. Trust me. I wrote Little White Lies in January 2010. It didn't go anywhere. In October of 2010 after it SAT for a while, I saw why. THEN it got some serious traction. And now, another 8 months later, it's out.
Letting your stories sit is really hard. But it's worth it. So 300 page story? Let it sit 150 days. 2 page story? Don't submit it for AT LEAST 1 day. Give it time to simmer.
Anything special you'd like to say to readers?
Two words: Thank you. 🙂
What are you working on now?
Right now I'm working on the next in the Mimics of Rune series! Yes, Cael and Lily are FINALLY going to get it on!! I think by the end of Little White Lies, everyone yells at me for not just making it happen already, but there are reasons. They both have reasons. They are so destined to be with each other but man oh man … she's about to tell him some truths and poor Cael is going to be heartbroken. I gotta get them to their happily ever after ASAP!
When did you first decide you wanted to be a writer?
May 2009. I was sitting in my photography studio kinda hoping for the phone to ring and thought … 'what if…?' and in 60 days from that moment I wrote a story that no one will ever see. Nope. No one. Ever. From that moment on, I wanted to keep at it. I wanted more. I had characters flitting through my head. I had dreams of seeing my name on a book cover. That was it. Literally. That day start it all.
What is your character development process?
Well, since I'm a total pantser when I write, my characters tell me what they are supposed to do and how to act. I don't develop them, they develop for me … on their own … until they are happy with how they live, breath, love and in some cases die. I love getting to a scene and not knowing how my characters will react and my fingers type stuff and all the sudden tada! It's done! And I swear, I had no idea it would be like that.
What's your favorite writing tool and why?
Scrivener. It's the best thing since sliced bread, and I know that's cliche. But it is. I mean it. I just finished my eight novel and this one was a hard one because I had the plot all worked out in my head. So I would write too much too fast and move scenes to new chapters just by dragging and dropping them. Literally. Push an entire scene out 2-3 chapters by dragging and dropping. It's awesome. It's a writer's dream tool.
How about some quickies!
Pencil or Pen: Pencil
Print or Cursive: Print
Pantser or Plotter: Pantser
Favorite Candy: Mr. Goodbar
Worst habit: I crack my knuckles religiously. 🙂
***************************
About the Aimee Laine
Aimee is a romantic at heart and a southern transplant with a bit of the accent (but not a whole bunch). She's married to her high school sweetheart, and with him, she's produced three native North Carolinians, two of whom share the same DNA.
With an MBA and a degree in Applied Mathematics, there's absolutely no reason she should be writing romance novels. Then again, she shouldn't need a calculator to add two numbers, either … but she does.
Check out what Ms. Laine is up to on her Website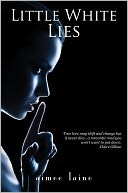 Little White Lies by Aimee Laine is Available at: