I've been quite fortunate to have LOTS of authors visit my blog over the past few months. More authors means a larger selection for readers to choose from and more opportunities to win. A big thank you to all the authors for being generous with their time as well as the blog tour organizers who've allowed me to participate in the blog tours.
I'm not going to go into too many details. But basically the Mid-Month Commentator Giveaway is a feature I'm trying out this year. Each month I draw a winner from the blog post commentators. That winner is able to select any book (print or digital) by the author they left a comment for. More details on the giveaways here.
And the winner for this month is
Angela Brown!
Angela has a choice between any work by David Houchins, Scot Thomas, or Nadja Notariani.
The winner has been notified.
A recap of works by these three authors.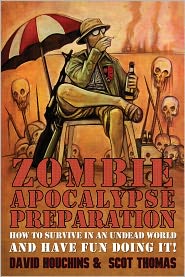 "We guarantee this is the only tool you need to survive the zombie.
OK, that's not really true. But when the SHTF you're going to want a survival guide that's not just geared toward day-to-day survival. You'll need one that addresses the essential skills for true nourishment of the human spirit. Living through the end of the world isn't worth a damn unless you can enjoy yourself in any way you want. (Except, of course, for anything having to do with abuse. We could never condone such things. At least the publisher's lawyers say we can't"
Zombie Apocalypse Preparation: How to Survive in an Undead World and Have Fun Doing It! is the first zombie apocalypse survival manual with entertainment in mind.  What fun is living in a world of the undead if you can't have a bit of fun?  The apocalypse is not just about survival it's about enjoying your new found life.
Inside the covers of this book you will not only find the way to pick the right weapon, building, and survival methods but you'll find entertaining ways to dispose of the undead, entertain yourself and your group, and dispatch your former friends and family members with a smile on your face and a song in your heart.
Available at Barnes & Nobles || Smashwords || The Book Depository || Amazon
~ 'One Fate be granted mortal man, used for evil or good as the inner voice directs. Alas, the divine spark draws the eyes of the Fates, the Second Fate sparingly gifted by their hands. Be warned offspring of the gods; guard your gifting well. For if the Third Fate be unleashed, the soul lays bare before one so touched by the gods.' ~
Cautious and quiet by nature, Paige Kinnell watches life unfold from the sidelines, maintaining her simple existence as a shield to hide behind. But underneath her shy, careful ways, Paige senses a disconnect with the world around her, indulging instead her ever curious interest in the legend and lore of time nearly forgotten.
One chance encounter with an ancient of the undead begins an unraveling of reality as Paige knows it, leaving her to sort through dreams and enchantments, discovering along the way that one's Fate can be mere illusion, and that the consequences of opening her heart to another may cost dearly.
Cael Maccinnis, the handsome Highlander she's met, seems the answer to every unspoken longing of her heart, even as he awakens dark, secret desires buried within her soul. As strange and unnerving changes begin occurring in her mind and body, Paige has no choice but to face her life's unnatural turn and confront the frightening implications. For within Paige's past a secret lay dormant, hidden even from her. This truth, guarded well and wielded by the Fates themselves, becomes the catalyst invoking the power of The Third Fate.
Available at Amazon
If you haven't entered the Rotter World giveaway, don't miss out!