A few weeks ago, you might remember my writer friend, Gerard de Marigny visiting. 🙂 He shared with us an excerpt from his novel, The Watchman of Ephraim. Today he's here to share his thoughts on publishing.
Why Self-Publishing Needs Quality Standards
Gerard de Marigny
EXAMPLE #1: Here's a review of a work published not too long ago on Smashwords …
"Sorry, this may or may not be a great story but there are too many spelling, grammatical & punctuation errors to find out.
"I really dislike giving up on a book but in this case the many very simple spelling errors (fealt instead of felt for example) are simply too distracting so whilst the plot description intrigued me I gave up pretty early on. A simple spell check would have picked up most of the spelling mistakes; if the author can't be bothered to do that how can he expect us to read his work?" [Emphasis mine]
EXAMPLE #2: Here's the short and long descriptions one author gave for his work:
"Ebook Short Description
Children's fantasy…
Extended Description
Children's fantasy…"
… And here's the one and only review that author's work was given:
"I would find it much easier to decide to download if it actually had a proper description and tags to tell me whether it is worth it!! So in conclusion I have not downloaded it because of the reasons above!!"
EXAMPLE #3: Here's one more piece of a review – keep in mind that all of these reviews were taken recently from Smashwords.com:
"It is difficult to review when I can't tell what is a typo and what is supposed to be slang."
I think I speak on behalf of ALL self-published authors (as those examples above were obviously all self-published) when I say that I'm embarrassed … embarrassed and frustrated at being included in the same light with those lazy, unprofessional writers above!
Anyone who has ever been the victim of bias can relate to the frustration experienced by professional self-published authors because of the poor perception most readers have about self-publishing in general. Growing up half Spanish-half Italian in a tough area of Brooklyn, NY where the Italians and Latinos pretty much hated each other, I can tell you from experience that perceptions can be a POWERFUL force. Negative perceptions can prove to be a profound disadvantage for anyone affected by them.
It's difficult enough for a self-published author to learn the crafts of writing and publishing. You spend the money, time and effort on creating written works that are polished and professional, only to be dismissed by a growing mass of people simply because you are self-published. They haven't read your works or even looked at your cover or summary – many won't even do those things if the work was self-published. They've just dismissed all self-published works from the onset.
Here's the really bad thing … I don't even blame those people – because I'm almost one of them! Being a SelfPubber, that really pains me, yet, I cannot say that I don't have a certain bias against self-published works. Now, I don't dismiss them – of course I don't – but I would be lying if I didn't admit that I do wonder about the QUALITY of a work when I know it's self-published. That's not something I concern myself with, when it comes to a traditionally-published work … and that's the real point of this article.
With a TRADPUB work, I concern myself with the normal, subjective things like genre, topic, and author but with a SELPUB work, my primary concern is about an objective thing … QUALITY!
I've heard that self-published authors contend that some of them are too poor to be able to afford professional editors to edit their work … to which I say, "If you can't afford an editor, find another way!" By the way … spell checking is free! Bottom line: those people would still be able to publish (if my proposed quality standards process went into effect), they just wouldn't be able to receive the "Quality Approved" seal. Would that potentially hurt their ability to sell their work? I'd say, "Yes!" At least I hope it does, for the folks sake, that it is!
I was raised in a relatively poor family – a family that did not give quarter to laziness and a family that did not accept excuses! My Dad was a U.S. Marine. He taught my brother and me the same things he learned in the Marine Corps. When you face a problem and you can't solve it easily … improvise and adapt so that you can overcome!
In order for the bias against self-published works to ebb, there is a need for quality standards to be established and maintained, and then for some sort of 'Quality Seal" to appear on works that meet the established benchmarks.
What would this do? Well first, it WOULDN'T prevent any lazy fool from self-publishing … and you know something … I don't want to prevent people from having the freedom to self-publish. I'm all for liberty and the freedom to do things like publish your own written works, even if they are garbage. I believe in the capitalist system of allowing the consumers to decide on what they will and will not consume.
HOWEVER … we must address the concept of "caveat emptor" (let the buyer beware), when it comes to self-published literary works. That's correct – we need to protect the folks first – NOT OURSELVES (read: self-publishers). People should have a quick and easy way to see that a self-published work meets certain quality standards with respect to the objective craft portion of the work – namely, proper grammar and spelling. A Quality Seal that represents that a work has met the criteria set out in established quality standards would be just the thing.
Now, I'm NOT talking censorship here. I do not believe that any subjective portion of the work should be considered in a quality standard. Subjective aspects of writing are things like storyline, characters, settings, etc. Dialog would also be included as a subjective aspect – so, writing dialog that utilizes vernacular or slang would not be subject to review by the quality standard review process.
Self-publishing needs quality standards so that readers can easily determine whether a self-published work meets a certain level of professionalism. Currently, when a reader purchases a book published by a legacy publisher, the very fact that the book was published traditionally serves as a quality-approved seal. Until readers can make that quick of a determination of whether a self-published work is of acceptable quality, ALL self-published works will be circumspect.
***************************
About the Gerard de Marigny
Gerard de Marigny is the author of the geopolitical thriller, _The Watchman of Ephraim_, Book 1 of THE WATCHMAN OF EPHRAIM series. The sequel, _Signs of War_ is scheduled for release in September 2011.
Gerard de Marigny resides in the beautiful foothills of Las Vegas, NV with his wife Lisa and his four sons. When not bending an arm with friends at the local pub, he's putting to paper the stories and characters that are alive in his mind.
Connect with Gerard de Marigny online: Website, SelfPubber's Pub, Facebook, Twitter, Goodreads, LinkedIn, and MySpace
Find The Watchman of Ephraim by Gerard de Marigny at: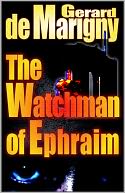 Barnes & Nobles
Signed Hardcovers and Paperbacks