Okay… I'm a bit eager. I rushed home after the count down and had winners on my mind. 🙂 I have to admit. I'm quite relieved to only have to pull one winner this time. It sure simplifies things. Hopefully that means I'll have a simple year.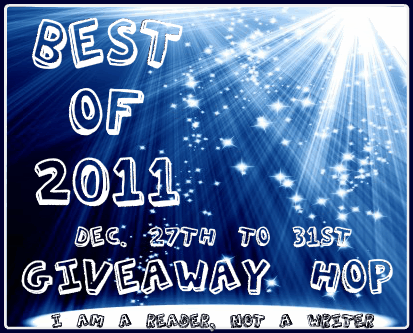 The Rules: The giveaway should be for one of the blogger's favorite reads of 2011. It can be a book that was released in 2011 or a book read in 2011. Alternately bloggers may include a list of favorite 2011 reads for the winner to choose from. Prizes may be provided as a gift card. No erotica (a reminder for me). This blog hop is sponsored by I'm a Reader Not a Writer.
I've opted to present a list for my wonder readers. One winner will have the opportunity to choose a book from my favorite reads of the year. All 5 star reads and highly recommended by yours truly.
And the winner is!
Rebecca Stephen
Don't remember what she won? 🙂 Well, she'll receive her choice of one of the wonderful books below. Click on image to read my review
An email has been sent to Rebecca. She has until January 8, 2011 to claim her prize.
I've also picked out the January newsletter winner! Cheryl English
Not familiar with the subscriber-only monthly giveaways? Every month, I'll be giving a prize away to one newsletter subscriber. If you're already a subscriber, you're already entered.
Not a subscriber yet? Not quite sure? Subscribe to our newsletter here or fill out the form in the sidebar (upper left).
Congrats to both winners!
Don't forget to check out the blog hops mentioned under the header. I won't be hosting a stop here, but I will be sponsoring prizes.