If you haven't stopped by Rachel Haimowitz's blog, do so! From January 14-24, 2011, she's having her blog tour for Anchored: Belonging Book One. Anchored releases on January 17, 2011, from Noble Romance Publishing. To celebrate, Ms. Haimowitz is throwing one heck of a party and giving out nearly twenty-five free books!
Network news anchor Daniel Halstrom is at the top of his field, but being at the bottom of the social ladder—being a slave—makes that hard to enjoy. Especially when NewWorld Media, the company who's owned him since childhood, decides to lease him on evenings and weekends to boost their flagging profits.
Daniel's not stupid; he knows there's only one reason a man would pay so much for what little free time he has, and it's got nothing to do with his knowledge of current events. But he's never been made to serve like that before, and he fears he won't survive the experience with his sanity intact.
He finds himself in the home of Carl Whitman, a talk show host whose words fail him time and again when it comes to ordering Daniel to bed. Daniel knows what Carl wants, but it seems as if Carl isn't willing to take it, and Daniel's not willing to give it freely. His recalcitrance costs him dearly, but with patience and some hard-won understanding, love just might flourish where once there'd been only fear and pain. Can Carl become the anchor in Daniel's turbulent life, or will he end up the weight that sinks his slave for good?
(WARNING: This book contains potentially triggering subject matter, including a violent on-screen rape. Please take heed.)
Today Carl Whitman, the talk show host who leases Daniel, is here to chat up with us for a bit.
Reena Jacobs: Thank you, Mr. Whitman, for joining us today. I imagine you have a pretty busy schedule.
Carl Whitman: My pleasure. Always happy to chat with a fan.
RJ: I bet your introduction into broadcasting differed significantly from Daniel's. Tell us a little about how you became a news anchor.
CW: I'm actually a late-night talk show host, although I did get my start in news. Radio, to be specific. I studied broadcasting at NYU, did a 30-minute radio show on the college station my junior and senior year. A lot of current events, a lot of football talk, the occasional interview. Took an internship at a local radio station the summer after my senior year, and ended up staying on there for three years. I was the guy who did the Local News on the 15s, you know? Mostly reading wire reports, but every once in a while I'd get to interview a local celebrity or politician. After that, let's see . . . Moved on to sports reporting with the local evening news, then got a gig morningside as a co-host on the local morning show—slightly bigger market, went from Philly to New York—and it all just sort of took off from there.
RJ: I'm curious about your childhood and your interactions with slaves. Will you share with us a bit about that?
CW: I grew up pretty solidly middle class. My parents couldn't afford their own slaves, but I remember they used to rent a woman from a couple down the street, have her come in and clean once a week, maybe send her out to do the grocery shopping if they were really busy. And they hired slave babysitters for me and my sister from an agency. Since my dad worked a lot of late nights and my mom was getting her Master's degree in the evenings for a few years, there was a lot of babysitting going on. So in a way I guess they were a part of our household, and of course they're just everywhere in restaurants and stores and whatnot. I always knew they were important resources, and my dad raised his kids never to be cruel to a slave—a lot of times they just don't know better, or just don't understand; it's pretty uncommon to see one being deliberately willful. Like dogs, you know? They trust you, and they count on you for their care and safety and affection, and in the end, they really only want to please you. That's a lot of responsibility, and you need to take it seriously. Which is why, to be honest, I hadn't ever really given serious thought to owning my own slave until my career really took off. Suddenly I had no free time anymore, but more money than I knew what to do with. Seemed smart to stop renting someone from an agency and just get my own.
RJ: How did you discover Jane?
CW: So I've got this thing, right? This allergic-to-gluten thing. Makes it kind of hard to eat out. But there was this little restaurant down in the East Village, place called Lefties, they serve the most amazing gluten-free food. I'd go down there maybe once, twice a week, every week, and one day when it's not real busy, I ask the waiter if I can't give my compliments to the chef. So he brings her out, and it's Jane, this quiet, polite little southern belle. And then I see the bracelets and realize she's a slave—well, plus, you know, the whole "Yes sir" and "No sir" and "Thank you, sir" bit she had going on, never looking me in the eye and all. But anyway, this is around the same time the money's piling up and my time is dwindling and I'd made up my mind I needed to buy someone. She didn't come cheap—the owner was pretty fond of her, and frankly I don't blame him—but we shook hands on it that night and I came to pick her up the next day.
RJ: What was your rationale behind keeping Jane's husband?
CW: Husband, eh? I mean, I know I got them rings, but you do know slaves can't marry, right? But anyway, why I kept Dave? *shrugs* They're in love. And yeah, sure, maybe it's true that slaves don't feel love like we do, but still, it woulda been cruel to pull them apart. And I told you what my dad taught us about never being cruel to a slave. Anyway, Dave's not such a bad investment. He's got good skills, and he's eager to please; the agency finds him a lot of work.
RW: Would you ever allow Jane to have children of her own?
CW: I gotta be honest, I really don't want a baby in the apartment crying all hours of the night. Besides, I get the impression Jane doesn't want kids. Don't know why, but she always gets this look when she sees other people's babies, you know? Like it makes her sad. All I know is, she asked me if she could go on the pill, and I got it for her. If she comes to me one day and says she doesn't want it anymore, well, I guess we'd deal with it then. Maybe if I moved to a bigger place, somewhere I wouldn't hear the kid or trip over its toys . . . I mean, it might be kind of nice to have a little critter around.
RJ: Tell us about the first time you saw Daniel.
CW: Hm, well, I guess it was . . . six or seven years ago, maybe? He was a foreign correspondent then with InfoGlobe, just starting to break out into the spotlight. Fuck, he was pretty, and smart, too. They knew they really had something special there.
RJ: When did you first realize you had the hots for him?
CW: *laughs* Oh, I dunno, the instant I laid eyes on him? I mean, seriously, have you seen the guy?
RJ: What draws you most to Daniel?
CW: I know I should be mature here and say "his brain," but . . . I mean, not that it isn't a lovely brain, because it is; he's smart, he can really be hilariously funny when he lets his fucking hair down and relaxes, he's lightning-quick on his feet, a little flirty—and mind you, I don't even think he realizes he's doing it. Guy just oozes charm. He's got a big heart, too, so appreciative of the tiniest little things. And he certainly doesn't hurt to look at, either, if you know what I mean.
RJ: Is there anything about Daniel you'd change?
CW: Sometimes I wish he weren't a slave, you know? But it's not as if manumission is even legal in this country, so even if I owned him I couldn't make that choice. Anyway, poor kid would have no idea how to take care of himself. But he's just so skittish sometimes, and there are things I'd love to do with him, places I'd love to take him, where those damn bracelets just get in the way.
RJ: Why did you lease Daniel rather than flat out purchase him? And are you considering purchasing him in the future?
CW: Hah! I wish I could buy him, but that man is so not for sale. Even if he were, I doubt I could afford him. Do you know how much it costs just to lease him?
RJ: We'll we be hearing more about you and Daniel in the future?
CW: At the very least, you can see us on TV five days a week. And I'm afraid we've been in more than our share of the gossip rags lately too. God only knows why the press is so interested in our sex life, but there you have it, eh? You know what I think? I think they're jealous.
RJ: Thank you again for stopping by today, Mr. Whitman. We'll definitely be keeping an eye on you and Daniel, gossip and all. 😉
You can find my review of Anchored here. Find out more about the men in Rachel Haimowitz and the men in her life on her blog.
Great news! Rachel Haimowitz has offered prizes to two lucky commenters! So what's up for grabs?
1 ebook copy of Counterpoint: Book I of Song of the Fallen OR of Sublime: Collected Shorts (winner's choice).
1 swag pack featuring cover art from Anchored and my other works.
The rules! We love rules, don't we?
Leave a comment on this post.
Leave your email in the post, so I can forward your info to Ms. Haimowitz.
Giveaway ends Sunday, January 23, 2011.
So… want to keep on top of the Anchored Release Party? Here's what's happening.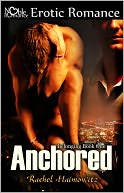 Find Anchored at: