Today, Author of Vampyr Kisses, Elizabeth Kolodziej, joins us today to talk about Self-Publishing. I came across her after reading her experience about getting her books into brick and mortar stores. Please give Ms. Kolodziej a friendly welcome. 🙂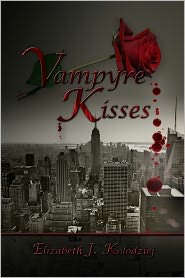 Vampyre Kisses is an enthralling story about a young woman named Faith, who was content with her life, but deep down craved more excitement. Then a mysterious man named Trent enters her life and everything changes. Surprising to Faith, Trent is a green-eyed vampire from Ireland. She is even more surprised to find out that she is a witch, and the last of her kind.
Faith finds out that she is destined to restore her witch line and becomes more powerful as she gains confidence and knowledge, but danger lurks everywhere. Especially when unknown assailants steal the most important gems from the vampire master and werewolf royalty.
Now surrounded by a world full of mystifying vampires and werewolves, can Faith gain enough power to help her friends and rescue the stolen gems?
"Kolodziej created a mystical tale full of magic and mystery. It's a fascinating world, completely unique compared to the cookie cutout worlds most vampire authors use." – Vampires.com
"The storyline was full of action and excitement, clearly described, and I would be interested in reading more about Faith and Trent's continuing journey." – Mary at BittenByBooks.com
Ebook available at: https://www.smashwords.com/books/view/27943
Paperback available at: http://amzn.to/aGDg3w
Self Publishing: Your Not Just An Author Anymore
Hi everyone, so glad to be on this terrific blog doing a guest post! I thought long and hard about what I would write about and a certain subject came to mind.
You see I was talking with my publisher about Barnes and Noble buying copies of my book. Let me first say, I didn't realize how big a deal this was for a self-published author, now I do! It's such huge news!
Anyways! This person from Strategic Publishing said to me:
"Seriously, I cannot tell you how much I wish all of our authors were exactly like you! You should be our official poster child! :)".
Well, I had the biggest grin on my face and thought, "there is my ego boast for the day!" Ha ha.
But seriously, I wrote her back saying this:
"Thank you so much. I think a lot of self published authors don't understand that not only are they an author but they are now there number one promoter, marketer, everything! They gotta take charge and learn the business the best they can. And make tons of author, writer, publisher, and editor friends. Cause they can give you the best advice sometimes and help you through a certain marketing or writing task. I have learned so much from all the books I read, sites I visit, and people I talk to."
So this is my advice to every writer, author, soon to be author, aspiring author, you get the point. Please learn the business behind your craft. It is so important. Learning about the business side will keep you from being scanned, wasting money, and much more. It will also make you look that much more professional! When self-publishing you are becoming on entrepreneur. Any good entrepreneur doesn't learn half the business but all of the business.
What makes something like learning the industry so easy is the real simple fact that just about every author or person in the business is really helpful. Though getting an agent or getting published by a big publishing house can be cut throat or you may have your bad experiences, people in this world are just so nice and want to help you succeed.
Now for something even more fun! Here is a book I would recommend if you want to learn more about marketing and promoting. I think it's the best book to begin with. If I remember correctly he recommends other books you can look into as well. I totally trust this author.
Plug Your Book by Steve Weber
(not only is this a brilliant book made easy to follow but you can actually get in contact with the author to ask questions!)
Along with that here are some sites that if you aren't a part of yet you should be. Going to websites like yalichat.com, shewrites, bookmasons, writerspace, goodreads, etc are some terrific place where you can not only meet other like minded people that can become great friends, but it will be a place where you can learn, be taught, and teach.
These are the basic principles that I think more writers should know from the beginning. Yet, so many don't because, like me, you don't realize it's out there to do! Or you just don't know what your getting yourself into when you self-publish. I really hope this helps lots of people out there though.
And remember, you get what you give so be kind to others and help them out as much as you can.
Last thing I promise! You should also remember one thing when it comes to promoting. Do not let it affect your ability to write your best book:
"…The more anxious you are about forcing success through self-promotional effort, the less creative energy you have for the writing itself.
Simple Guideline:
Do what you can without
A)    taking away from the quality of your writing time
B)    taking away from the quality of personal relationships
C)     taking on debt"
(pg 243-244, The Art Of War For Writers, Bell, James Scott)
Happy Promoting!
Liz ^_^
You can find Elizabeth Kolodziej on her website (www.vampyrekisses.com), Twitter (@ejkolodziej), and Facebook (www.facebook.com/kweenkitten)
Find Vampyre Kisses at Barnes & Nobles || Amazon
|| The Book Depository || Smashwords