If you're an indie author, you've probably heard it before, "You need an editor." Quite a few individuals offer their editing services, but I've had a hard time finding folks to make firm recommendations. Lucky for us, L.K. Rigel joins us today to share her experience with working with her editors.
My Editors
by
L.K. Rigel
I recently published the second book in my In Flagrante Apocalypto series. The first book, Space Junque, was edited by Anne Frasier/Theresa Weir. The second, Spiderwork, was edited by Cara Wallace. Being two completely different human beings, the experience was completely different.
Both of them made the book they worked on better than could have been otherwise.
Theresa is a best-selling author with years of experience both writing and editing. My short story Slurp was accepted to the Halloween anthology Deadly Treats, to be published by Nodin Press next fall. She edited all the stories in the anthology.
Theresa brings a lot of gravitas to the relationship. I trust her judgment. More than editing a book, working on Space Junque with her was like taking a graduate seminar on writing and me being the only student.
Cara hasn't published any novels or edited any anthologies. She has a master's degree in English, years of experience freelance editing, and a highly analytical mind. She is an amazing blurb writer. I will never struggle over a blurb again. I have found blurb heaven, and its name is Cara Wallace.
Because I wasn't taking a graduate seminar from Cara, the editing process went a lot faster with her. And in these heady days of indie publishing, there is a lot to be said for speed. On the other hand, I had a few continuity questions from a couple of thorough readers when Spiderwork first came out. The questions were spot on — enough so that I added another 4K words to the book.
Another beauty of electronic publishing, being able to make corrections and changes.
I enjoyed both styles of editing. What kind of editing experiences have you had? What do you look for in a dream editor?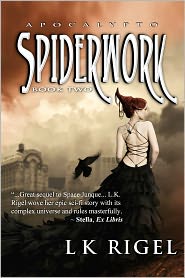 LK Rigel is the author of the novella Space Junque (In Flagrante Apocalypto 1) and Spiderwork (In Flagrante Apocalypto 2). Her short story Slurp will be included in Deadly Treats, an anthology edited by Anne Frasier coming September 2011 from Nodin Press.
Rigel's writing has appeared in Literary Mama and Tattoo Highway.
She lives in California with her cat Coleridge.
BONUS: Ms. Rigel is offering goodies! One lucky winner will receive a copy of her latest work, Spiderwork. As a special touch, if the winner doesn't have a copy of Space Junque (see my review here) she's offering that also. Don't we just love starting at the beginning of a series? 🙂
So how do you win? Simple. Fill out the Form
The rules!
You'll earn 1 point for completing the form and additional point if you tweet and leave the link.
You may tweet once per day after your initial entry for an extra 2 points. Use the same form.
Comments are appreciated, but only entries from the form count.
Giveaway ends Friday, January 21, 2011.
Please read the giveaway policy for the nitty gritty.
Anxious? Find Space Junque at Barnes & Nobles || Amazon
 || Kobo || iTunes and Spiderwork at Barnes & Nobles || Amazon
|| Kobo || iTunes ||