How I Found Affordable Custom Cover Art for My Ebooks
Lindsay Buroker
You know that old saying, "Don't judge a book by its cover?" Well, nobody pays attention to it. Especially when they're shopping for ebooks!
I know it seems silly (why should an electronic book even need a cover?), but it's important for us to have professional images to represent our books. You want potential buyers scrolling through the lists at Amazon/iBookstore/Smashwords/etc to be more attracted to your cover than the ones surrounding it. You want them to say, "Oh, that looks spiffy," and click through to read the blurb for your book. (Bonus points for you if they use the actual word 'spiffy'.)
Good-looking custom artwork is a great way to stand out, especially next to other indie ebooks. But it costs a fortune, right?
Well… maybe not as much as you'd expect. When I started looking around, hoping to have a couple covers done, I ran into professionals charging $500 and up for custom artwork. I'm sure their prices were very reasonable, considering the work that must go into crafting such a piece, but that's more than a lot of indie authors can afford.
I headed over to the Deviant Art website and starting browsing the galleries of various members of the community. There's some brilliant work up there, and I came across more than a few artists who I knew would be perfect for what I had in mind. I made an account so I could send them messages…and never heard back. After checking my virtual armpits for cyber odors that might have driven them away, I decided they were probably just busy and didn't check in that often.
Then I stumbled upon the Job Offers Forum. There were lots of posts with folks asking for character art, comic graphics, and, yes, book covers!
I made my own post (you have to have an account on Deviant Art to post, but it's free to create one) and explained what I was looking for. I also stated exactly how much I could spend, since I didn't want to get excited over offerings from folks who would make me the cover of my dreams…for $700.
Within hours, I'd received several offers, and they kept rolling in over the next week. I was able to browse through the galleries and find someone whose style meshed with my needs. I did see quite the gamut. You want realistic paintings of scantily clad heroes and heroines? It's there. Gorgeous battle scenes for your epic fantasy novel? They're there too. Cartoon artwork to appeal to young readers (hand raise), you got it.
A word of warning: artists from all over the world belong to Deviant Art, so English isn't going to be the first language for many of those who contact you. If you have very specific ideas in mind, make sure to pick someone who communicates well.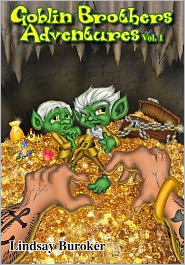 I ended up with two artists doing covers for different ebooks, one my Goblin Brothers stories (for middle grade readers) and one a more realistic style for a fantasy novel I'll be publishing soon. Neither cost me more than $200. Though I thought the artists did a good job, and I would have loved to give more, I've got to start making some money first!
Good luck with your own ebook covers, and let us know if you find someone who does a good job.
Bio:
Lindsay is a professional blogger by day and a fantasy writer by night. She writes about her Ebook Endeavors on her blog. Please stop by to chime in on the discussion!
Goblin Brothers Adventures is available at Barnes & Nobles || Amazon
 || Kobo || iTunes || Smashwords