Have you been following the Halo of the Damned Blog Tour? Whatever your answer, you've come to the right place. 🙂 Today we have Author Dina Rae to share with us about conspiracies and more!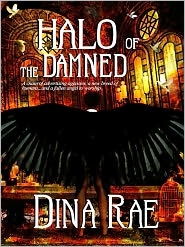 Book Title: Halo of the Damned
Author: Dina Rae
Series: Book 1
Genre: Dark, Horror, Paranormal, Romance, Suspense, Thriller
Publisher: Eternal Press
Paperback/Ebook
Pages: 291
Words: 89,000
"A chain of advertising agencies, a new breed of humans, and a fallen angel to worship…
Andel Talistokov is known for his slick advertising agencies across the globe. He is a fallen angel that uses advertising as a weapon for Satan's work. His growing power emboldens him to break several of Hell's Commandments. Furious with his arrogance, Satan commands him to return to Hell after finding his own replacement. Yezidism, an ancient angel worshiping religion, quietly expands throughout the West. Armaros appears as a guest of honor during their ceremonies. He mates with young women to produce nephilim, a mixed race of humans and angels. They are alone and unprepared for their supernatural power. Joanna Easterhouse, a recovering drug addict, steps out of prison shortly after her mother's fatal accident. She and her sister, Kim, unravel their mother's secretive past. Intrigued, they learn their bloodline is part of a celestial legacy. Both worlds collide. Halo of the Damned is a horrifying tale that weaves research together with suspenseful twists and turns."
Available at Barnes & Nobles || The Book Depository || Amazon || Eternal Press
Reena Jacobs: After reading the blurb of Halo of the Damned, I was beyond intrigued. How did you come up with the idea?
Dina Rae: I always found the Biblical story about Satan's fall fascinating. I also found various advertising campaigns equally fascinating. The two components seemed to go together. Back in the early '90s when Saddam Hussein was killing the Kurds I read an article about a tiny sect that worshiped the devil. Upon further research, there really was one, the Yezidis. Had to write about it.
RJ: I know you're into conspiracy theories. Halo of the Damned sounds a lot like a religious conspiracy. And know what? I totally buy into it. I've been trying to convince my husband for years that various agencies were the tools of the devil! Share with us your favorite conspiracy theory.
DR: New World Order! As you probably know, it's a theory that an inner circle of the elite are positioning the world for a global takeover. People argue all the time about how "they" are going to do it. With the economic collapse of our country and Europe, all of the blunders our politicians have made, decisions about bail outs and wars, etc., one cannot help but wonder…
RJ: The New World Order and Illuminati! My husband is all over that one. For his safety, I won't mention which world leaders he thinks are part of it. Give us a brief description of a story you have hidden in your skeleton closet? And will it ever see the light of day?
DR: I am querying publishers and agents for my third novel, Bad Juju. It's about an old Voodoo bokor who mentors two teens in the dark arts. Again, lots of research on Voodoo-truly a fascinating religion. I am also in the middle of a sequel to Halo of the Damned.
RJ: Now you've got me curious about the cover that'll land on Bad Juju. Who is your favorite author and why?
DR: Hard question, so many. I guess I got to go with consistency over brilliance. Stephen King has had several moments of brilliance and is always good. I know that I will always enjoy one of his novels. I also love Dan Brown, Preston & Childs, Joel Rosenburg, Brad Thor, Nelson DeMille, Tom Harris, and Kitty Kelly.
RJ: Do you have any advice for other writers?
DR: I'm very new myself. Not really filled with advice, but I will say that reading is a must. I always loved to read, but now, I look at how the author transitions, switches scenes, POV, sets up characters and back stories, etc. My mind records the parts that I like and also the parts that I don't like (and try not to fall into the same trap).
RJ: I know exactly what you mean. Sometimes it seems I learn more from reading the works of other authors than I do from critiques! Anything special you'd like to say to readers?
DR: Buy my book! You'll love it!
RJ: Hearing you loud and clear. haha What are you working on now?
DR: The sequel to Halo of the Damned. I'm halfway through.
Thanks for having me!
Now for an Excerpt
Andel Talistokov watched Marcus, his assistant (among other titles) scrub his office cleaner than an ICU room. He carried Catalina's fresh head into the custom-made panic room he had built before occupying the building.
The room was twenty feet below the basement, and he and Marcus were the only ones who knew about it. Inside the room were a toilet, table, and kitchenette equipped with basic appliances.
The refrigerator acted as a personal trophy case, displaying an array of severed heads from previous victims. He enjoyed looking at them. There were currently three other heads in the freezer. Andel bagged them up to make room for Catalina's head.
He didn't want her face to compete with his other victims. She was special. She was his daughter.
About the Author
Dina Rae is a new author here to stay.  As a former teacher, she brings an academic element to her work.  Her two novels, Halo of the Damned and The Last Degree, weave research and suspense throughout the plots.
Dina lives with her husband, two daughters, and two dogs outside of Chicago.  She is a Christian, an avid tennis player, movie buff, and self-proclaimed expert on several conspiracy theories.  When she is not writing, she is reading novels from her favorite authors Dan Brown, Anne Rice, Brad Thor, Jim Marrs, Alex Jones, C.C. Finlay, and Preston & Childs.
Find Dina Rae Online!
Website: www.dinarae.co
Blog: www.dinaraeswritestuff.blogspot.com
Twitter: @HalooftheDamned
July 9th- Redheads Review It Better (Book Review/Giveaway)
July 10th- Proserpine Craving Book Blog (Author Interview/Giveaway)
July 11th- Nilsa's Book Blog (Book Review/Author Interview)
July 12th- The Jeep Diva (Book Excerpt/Giveaway)
July 13th- Erotic Romance With a Bite…Leigh Savage (Author Interview/Giveaway)
July 14th- Heart Of A Wolf (Book Review/Guest Post)
July 15th- Fangs For The Fantasy (Book Review/Author Interview)
July 16th- Abbey Ann's Bookland (Guest Post/Book Excerpt)
July 17th- A Diary Of A Book Addict (Book Review/Book Play List)
July 18th- Tricia Kristufek (Book Excerpt/Promo Post)
July 19th- Book Review Club (Guest Post/Giveaway)
July 20th- Keeping Up With The Rheinlander's (Book Play List Post/Book Review)
July 21st- Ramblings of an Amateur Writer (Author Interview/Promo Post)
July 22nd- What's Hot? (Book Review/Giveaway)