Yeah! You made it! So apparently, I'm here to share with you some indie books. Well, I'm ready if you are!
I wish I could tell you how I found this lovely lady, but for the life of me, my mind draws a blank. What I'm thinking is she found me. I do know after I read her books, I wanted more. And today, I'm going to share her with you!
L. K. Rigel lives in California with her television-watching cat, Coleridge. (His favorite show is Castle, but he is enthralled by Game of Thrones.) Rigel wrote songs for the 90's band The Elements, scored the independent science fantasy karate movie Lucid Dreams, and was a reporter for the Sacramento Rock 'N Roll News. Her work has appeared in Literary Mama and Tattoo Highway.
Rigel writes the postapocapunk "Apocalypto" series where human reproduction is threatened and fertile women rent their wombs to the highest bidding kings.
Her short story "Slurp" about an author with muse problems is included in DEADLY TREATS, Anne Frasier's Halloween anthology published by Nodin Press.
Her latest book, GIVE ME, is an adult fairy tale about possession, self-sacrifice, redemption…and fairies. The sequel, BRIDE OF FAE, is coming soon.
It's me again… Reena. 🙂 As if you didn't know. So I have a giveaway, or two, or three… maybe more planned this week. But this is also one of those times everyone wins (and has nothing to do with me). You see, the first book I'm introducing to you to is actually a free read on Amazon last I checked. But you better hurry. Who knows how long it'll remain free. This is where my adventure with Rigel books begin.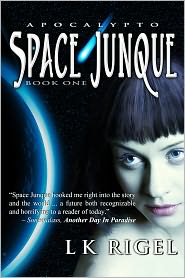 The DOGs want to destroy the world. The gods want to make a new one. The trick is to survive both.
The world is on the brink of ecological cataclysm set off by the Oil Spill of 2010 and the Great Sea Level Rise of 2070. Hydroponics agronomist Char Meadowlark has become a recluse since her fiance was killed by a terrorist bomb and her twin sister Sky went underground to protect a top secret alternative energy project. Warned about an impending eco-terrorist attack, Char tries to get off planet, but the Defenders of Gaia strike while she's at the airport. Shuttle pilot Jake Ardri might offer her only hope. 
When the DOGs' onslaught goes global and the material world threatens to implode, the ancient gods reemerge to take control over humanity. Through the ensuing chaos, Char must juggle two men, a world on fire, and a goddess with an agenda for a new world order.
Will there be any room for love in flagrante apocalypto?
Available at Barnes & Nobles || Smashwords || Amazon
I'd never read a space opera before. Was a bit skeptical about the whole sci-fi thing even. But Space Junque was more than a space opera. It had a little paranormal, romance, and dystopian apocalyptic goodies splashed in the mix. My verdict of Space Junque? a fun, interesting, and surprising read (See my review here). So if you haven't read Space Junque, get a move on it and pick it up!!!!
After Space Junque, I delved into the next in the series.
Her fate was to hold the world together. His destiny was to tear it apart.
As a child, Durga was chosen by the goddess to save humanity from sterility and extinction. Soon she'll be eighteen and have to serve as a chalice – to provide natural-born heirs to kings and more souls for the universe. Khai, the scion of Luxor, has different ideas about the new world order. When he falls hard for Durga, he isn't afraid to show it. Khai offers Durga the love she thought she could never have – but accepting him will destroy everything she's been commanded by the goddess to build.
Meanwhile, Jake Ardri now heads an emerging city-state and desperately wants Char Meadowlark to be his queen. But as king of his city, Jake is commanded by the goddess to provide natural-born heirs. Can Char share Jake with a beautiful chalice, trained to take Jake to the heights of sexual ecstasy?
Available at Amazon
Spiderwork too me out of my comfort zone. I have to admit, I went into culture shock with this one. It was one of those books which really got me thinking, and got me more than a little angry with society. My verdict? The entire book was unpredictable (see review here). I still love that cover!
Then we have Bleeder… well, it was Bleeder at the time I read it. Today it's sporting the name FireBird.
The King of Garrick wants to kill her.
The King of Allel wants to love her.
And shapeshifters stole her baby's soul! 
Mallory is a chalice, a rare fertile female after nuclear war and environmental cataclysm wipe out most of the earth's population. She lives under the protection of Red City, which contracts with the kings of the Concord Cities to provide natural-born heirs. 
It's a pampered life – until Mal is caught up in King Garrick's scheme for world domination and her forbidden feelings for Edmund, king of Allel, grow too strong to deny. 
When Mal discovers the significance of her firebird totem, she's forced into a dangerous level of world politics she didn't know existed – but her love for Edmund could destroy the game itself. 
One thing I have to say about L.K. Rigel, her writing grows with each release I've devoured. 
Available at Barnes & Nobles || Smashwords || Amazon
As I sit here thinking about Firebird, I can't help but feel a bit melancholy. I could totally see a future earth similar to the one in Firebird. It wasn't pretty, but so realistic it makes my heart ache. My verdict? A book which delves deep into human rights and politics (see review here).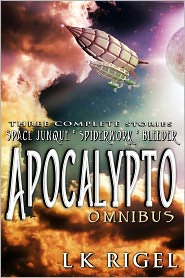 Over all, Apocalptyo is a wonderful series! Definitely recommend. You can pick up copies piecemeal at the links above or just dive in and gather the entire series in one swoop.
One special note I feel the need to add. Not all these books are romances. I say this because there are some readers who only want happily ever afters (HEA). If you're that person, I highly recommend picking up the complete collection (Apocalypto Omnibus). Why? You might not get your HEA in the first or second book because this series is really meant to be  read as a whole. You're HEA will come by the time you hit the last book.
Available at Barnes & Nobles || Smashwords || Amazon
Find more works by L.K. Rigel at Barnes & Nobles || Smashwords || The Book Depository || Amazon
Giveaway Time!
Two winners will receive his/her choice of one of the Apocalypto books listed above: Space Junque, Spiderwork, Firebird, or Apocalypto (which includes all three stories).
How to enter? Leave a comment telling us your favorite Indie Book or Author. New to indie books? Tell us a book you've heard great things about and are dying to read. Don't forget to leave a way for me to contact you if you win.
Giveaway Ends July 4, 2012
So I mentioned multiple giveaways this week? Check out my review of What a Boy Wants by Nyrae Dawn (also a great indie book). 🙂  You'll find a giveaway for copies of her book also. If you want to stay on top of the giveaways this week, be sure to check the button "Notify me of new posts" when you leave a comment. If I'm not mistaken, there are 5 separate giveaways happening this week.
Stop by on Wednesday for an interview with L.K Rigel and see who won today's giveaway… plus I have feelings there will be another giveaway that day too. 🙂