It's the last day of the INDIEpendence Blog Fest!
Anyone interested in finding out the winner of the last giveaway? I am! What was up for grabs?
Two winners will receive his/her choice of one of the Apocalypto books by L.K. Rigel: Space Junque, Spiderwork, Firebird, or Apocalypto (which includes all three stories).
And the winners are!
Barbara (Basia's BookShelf)
and
Julie S.

 (Has complete collection and passed her prize to…)
Sarah Dixon (Runner up!)
Congratulations! Emails sent.
Along with another giveaway, we also have another special treat for you. L.K. Rigel is back for an interview! Woot. 🙂 So… here we go.
Reena Jacobs: It seems like forever since I had you on last. I'm so glad you've joined us in the INDIEpendence Day celebration!
L.K. Rigel: Thanks so much for having me!
RJ: Okay. I stalk you. Don't look behind you, but I do. Your Apocalyptos series was my first introduction to your work. I absolutely fell in love with the story line. Of course, you've been busy busy since then with quite a few different types of works. Share with us what's been going on with your writing!
LKR: I'm so glad you like the Apocalyptos. You were one of the first people to blog about them, and your reviews were incredibly important to my self-confidence. There are several more books to come in the series.
This past year, I've brought out The Loves of Leopold Singer, an epic family saga set in the 1800s, and a decidedly not epic contemporary romance novelette, I Ruined His Life, which was a lot of fun to write.
Lately I've been absorbed with a new series (Tethers) about fairies and witches. Give Me – A Tale of Wyrd and Fae is the first book.
RJ: You got me… I'm a fan of "Once Upon a Time" and can't wait for season two. The saying is, if you like "Once Upon a Time" give the Tether series a try. Of course, your novel Give Me came well before the series. How did you come up with the idea?
LKR: It's a little embarrassing, but I was trying to write an erotic romance and failed. I started by asking what would happen if the spirits of two lovers were trapped in a magic object, and the only way they could be together was to possess other people's bodies? And what if two people found themselves madly attracted to each other, but they couldn't be sure if their feelings were real or magically induced?
The more I explored the idea, the less smutty it became—though I still find it erotic. Characters and factions started showing up, and an entire world unfolded. Readers have liked the result and asked for more, and I'm happy to keep writing about Dumnos, a land of mist and rain.
RJ: You've teased us with excerpts on your blog for the sequel to Give Me (Bride of Fae). Do you have a quick synopsis for us?
LKR: You really do stalk me! That's awesome.
Bride of Fae is the story of Cade Bausiney's mother Beverly who was possessed by Elyse in Give Me. She gets involved with Prince Dandelion, the rightful king of the Dumnos fae, but there's no future for a human with an immortal fairy. Besides, fairies don't fall in love—and anyway, Dandelion has troubles of his own trying to reclaim the throne from Idris.
Bride of Fae takes place before and after the time line of Give Me. It focuses more on the fae than on the wyrd, and we'll get to find out more about Lily's mother and father.
RJ: I'll be snooping around for a release date. 🙂 Random question: Have you managed to get Peter Coyote's wife pregnant in one of your novels yet?
LKR: Har! Once in real life was enough.
RJ: Be our little birdie… what do you have planned for us in the future?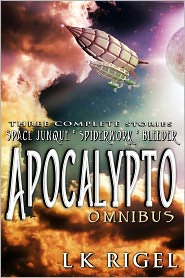 LKR: After Bride of Fae there will be at least two more books in the Tethers series. The next one is War of the Wyrd and then The Goblin King. The Apocalyptos have at least four more books in planning. Copperhead is next, then The Third Dagger (working title), which is the battle between Mallory and Lady Bron for control of Garrick, and an untitled book after that about the showdown between the followers of Asherah and the followers of Samael.
I also have a romantic suspense story knocking around in my head and a campy vampire series planned – I need 72 hours in a day!
RJ: I had no idea there was more to Apocalyptos. You've got me all excited. Get a move on it… this fan is waiting! Anything you'd like to say to readers?
LKR: Thank you! Thank you so much for taking a chance on a self-published author. Thank you for your kind words of encouragement. Fan mail does more good than you can know. After all, that's what it's all about – a writer isn't a storyteller until a reader makes it so.
About L.K. Rigel
L. K. Rigel lives in California with her television-watching cat, Coleridge. (His favorite show is Castle, but he is enthralled by Game of Thrones.) Rigel wrote songs for the 90's band The Elements, scored the independent science fantasy karate movie Lucid Dreams, and was a reporter for the Sacramento Rock 'N Roll News. Her work has appeared in Literary Mama and Tattoo Highway.
Rigel writes the postapocapunk "Apocalypto" series where human reproduction is threatened and fertile women rent their wombs to the highest bidding kings.
Her short story "Slurp" about an author with muse problems is included in DEADLY TREATS, Anne Frasier's Halloween anthology published by Nodin Press.
Her latest book, GIVE ME, is an adult fairy tale about possession, self-sacrifice, redemption…and fairies. The sequel, BRIDE OF FAE, is coming soon.
Find works by L.K. Rigel at Barnes & Nobles || Smashwords || The Book Depository || Amazon
Giveaway Time!
One winners will receive his/her choice of a book by L.K. Rigel.
How to enter? Leave a comment telling us what the biggest surprise you've had when reading an indie book? Don't forget to leave a way for me to contact you if you win.
Giveaway ends: July 7, 2012
Stay tuned! The review of What a Boy Needs by Nyrae Dawn will be posted soon, along with new winners and a giveaway.