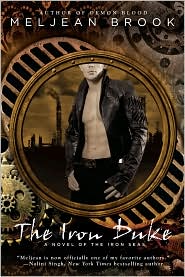 This will probably be the first week since I started reviewing books that I actually won't have one. Honestly, I just haven't been pu to reading lately. I just recently found my motivation to write after letting the bombardment of emails sink me. 🙂 Not that you folks are worried, but I'm back on track again with my writing and making excellent progress. Since I've failed to give you a review today, I thought it'd be nice to share what I'm reading anyway. The Iron Duke by Meljean Brook.
After the Iron Duke freed England from Horde control, he instantly became a national hero. Now Rhys Trahaearn has built a merchant empire on the power — and fear — of his name. And when a dead body is dropped from an airship onto his doorstep, bringing Detective Inspector Mina Wentworth into his dangerous world, he intends to make her his next possession.
Mina can't afford his interest, however. Horde blood runs through her veins, and despite the nanotech enhancing her body, she barely scratches out a living in London society. Becoming Rhys's lover would destroy both her career and her family, yet the investigation prevents her from avoiding him…and the Iron Duke's ruthless pursuit makes him difficult to resist.
But when Mina uncovers the victim's identity, she stumbles upon a conspiracy that threatens the lives of everyone in England. To save them, Mina and Rhys must race across zombie-infested wastelands and treacherous oceans — and Mina discovers the danger is not only to her countrymen as she finds herself tempted to give up everything to the Iron Duke.
As of this post, I'm on page 82. So far so good. My questions so far are:
Who exactly are the Horde? I understand what they did, but I don't understand why. Also, what is so different about them physically? When I think of horde, I think World of Warcraft and Everquest. Are they trolls, ogres, and goblins?
And what's the Duke's problem? He comes on a little strong, and I can't understand why he's so insistent. It might just be Brook's style since I had a hard time understanding Machen's motivation in "Here There Be Monsters" (review here) also.
Anyway, I'm enjoying the book so far. 🙂
The Iron Duke by Meljean Brooks is Available at Barnes & Nobles || Amazon
|| The Book Depository|| Kobo || iTunes