I saw this book in one of the newsletters NetGalley sent out. The title immediately grabbed my attention, so I requested a copy which NetGalley approved. My husband used to say I was being judgmental because I didn't believe everyone who said they're a Christian will experience the paradise spoke about in the bible. So I was quite curious to read what another had to say on the topic. Before we hit the review, the blurb from Goodreads:
McKinley challenges nominal Christians to take a deeper look at themselves.
Jesus divided the world into two groups—those who follow him and those who don't. But what happens when someone thinks he or she is a Christian, but isn't? With his witty, engaging style, Mike McKinley takes readers on a journey of what it means to be a Christian. He asserts that "manipulative evangelism techniques and a poor understanding of the gospel have resulted in an abundance of professing Christians who have no idea what it means to follow Christ."
Each chapter title begins with "You're not a Christian [if/when/just because you]…" As he surveys what it means to be Christian, McKinley offers criteria for evaluating one's standing before God. Readers are guided through a series of challenges to reflect, repent, remember, and report to another person. Am I Really a Christian? ends with chapters on salvation and the local church. This unique book is written for nominal or new Christians and can be used in personal or small-group study.
One thing I want to emphasize is this book is not aimed at non-Christians. It's not meant to convert the non-believer or convince the non-believer that Christianity is the only way. Instead, it focuses on individuals who claim to be Christian and helps those individuals examine their lives, so they don't miss the boat.
Much of what Mr. McKinley said, I knew to be true. It's clearly laid out in the bible. I don't know who has a ticket and who doesn't, but I do know the bible says something to the effect of the gate is small and the road is narrow and few will find it. So logically, it makes sense to me that not everyone who boasts to be a Christian is going to find the path. Especially when considering upwards of 60,70, 80% of Americans believe they're Christians. Who knows the figures in other countries. Few doesn't equal the majority.
So the question is: if one truly believes the information in the bible, wouldn't he/she want to be sure to be on the right track rather than one of the many who think they're walking down the right path, only to find too late they're on the broad road? Am I Really a Christian? is like stopping and asking for directions. In the end, some might receive a wake up call, but also might find hope and an opportunity to step on the road they'd meant to travel.
I loved that this book doesn't focus on hells fire and damnation. It doesn't try to scare folks into becoming a Christian or scare people who claim to be a Christian into behaving right. Instead, it identifies markers which might suggest one is or isn't a Christian. Not by way of finger pointing, which can be so easy (That person's not a Christian. That person isn't. That person is.) No. None of that. It isn't about whether others want to classify a person as a goat or a sheep. Rather it helps a person examine his/her walk with the help of those in the Christian community.
Even though this is a work tailored toward those who believe they're Christian, I still think it's a great read for non-Christians. Why? Because I believe the worldview on Christianity is tainted by those who profess to be Christian but act in non-Christian ways in the name of Christianity. Am I Really a Christian? is truly insightful.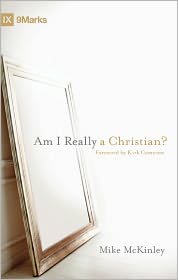 Am I Really a Christian?
by Mike McKinley
is avilable at: