I've become quite a NetGalley Fan. I believe I saw Black, White, Other: In Search of Nina Armstrong by Joan Steinau Lester advertised on Goodreads (another place imma lovin'). Having biracial children of my own, I was quite interested to see another's take on the issue. First thing I tend to do when a book catches my eye is hop on over to NetGalley to see if a review copy is available. What do you know? It was there. 🙂 I put in my request and voila! Netgalley sent me a review copy. So! The blurb from Ms. Lester's website:
As a biracial teen, Nina is accustomed to a life of varied hues—mocha-colored skin, ringed brown hair streaked with red, a darker brother, a black father, a white mother. When her parents decide to divorce, the rainbow of Nina's existence is reduced to a much starker reality. Shifting definitions and relationships are playing out all around her, and new boxes and lines seem to be getting drawn every day.
Between the fractures within her family and the racial tensions splintering her hometown, Nina feels caught in perpetual battle. Feeling stranded in the nowhere land between racial boundaries, and struggling for personal independence and identity, Nina turns to the story of her great-great-grandmother's escape from slavery. Is there direction in the tale of her ancestor? Can Nina build her own compass when landmarks from her childhood stop guiding the way?
I had a rocky start with Black, White, Other. This book threw me right into the middle of a packing scene, followed by Nina (15 years old) rushing out the door to catch a bus to see her dad. And I'm thinking: her mom isn't going to see her off? Of course, I'm thinking she's catching a Greyhound bus. Well, at least until she missed the bus only to catch another one shortly. It also took me awhile to figure out where she lived, other than Canyon Valley that is. But what state? A few clues thrown here and there and I realized she was in the San Francisco Bay area. Overall, I think the setting could have been presented better.
Hmm. I would absolutely love to read what a teen has to say about this work, as I found the style to be heavy on the narrative. The style works in other genres, but I'm not quite sure it works for the YA crowd. Of course, my YA years are far in the past, so who knows? Maybe the teens are big into narrative styles these days.
So the actual story. Black, White, Other actually had a two for one deal going. We had Nina's story, then within we had the story of Sarah Armstrong which was written by Nina's father. I know this is weird, but Sarah's story has a descriptive flare which Nina's lacked. It was as if two different people wrote the book. I have to say, Sarah's story intrigued me in ways Nina's didn't. Each chapter of Sarah's story had a cause and effect which built toward a greater event.
Nina's story, on the other hand, reminded me of a collection of vignettes. I wasn't quite sure what the major plot in her story was until I neared the end and she started to make some really horrible choices. Once she started to screw up her life, her self-created problems presented opportunities to solve.
My overall impression was this wanted to be a historical fiction (Sarah's story) while also wanting to appeal to the young adult crowd (Nina's story). Truthfully, I think the book missed the mark. Sarah's story had the potential to be so much more, but sandwiched between Nina's it didn't offer nearly enough time to explore her situation. Nina's story, well… she spent so much time acting out, I had a hard time sympathizing and connecting with her character. And as I mentioned above, it was lacking in the area of plot.
If I were to rate the two stories separately, I would give Sarah's story a solid 3 and Nina's story a 2.
Like I said, I'm really curious about the opinions young folks had on this book. If you're 18 or young, please, please send me a link to your review on this work.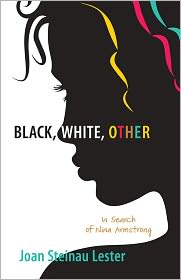 Black, White, Other:
In Search of Nina Armstrong
by Joan Steinau Lester
is Available at: