Mid-March, L.K. Rigel mentioned she was releasing the latest addition to the Ex Post Apocalypto series. "…you can get Bleeder for .99 if you catch it when it goes live," she said. Ask me if I took advantage of her early bird offer. Oh heck yeah, I did! After clearing some of the books on my to-read list, I hopped into Bleeder. So, let's take a look at the blurb from Ms. Rigel's website:
The King of Garrick wants to kill her.
The King of Allel wants to love her.
And shapeshifters stole her baby's soul!
It's been a hundred years since sea-level rise and global nuclear war wiped out most of humanity. Mallory is a chalice, one of the world's rare fertile females who contract with the kings of the Concord Cities to provide natural-born heirs.
It was supposed to be a pampered and uneventful life, but Mal becomes caught between King Garrick's scheme for world domination and the goddess Asherah's desperate plays for another god's attention.
In her struggle to survive, Mal must confront the most terrifying threat of all — the truth of her past and the inevitability of her destiny.
I have to say, I'm so glad Ms. Rigel decided to make this into a full length novel. Whereas the first two novellas left me wanting more information, this one was full of depth. Wonderful world building!
Before I go deeper into the review, one thing you must know about me is I'm the type of person who LOVES to HATE. Many aspects of this book riled me, but in a way which was satisfying because of the realism. Think Darth Vadar: an absolutely wicked character but in such a way where you can't help but say he's a kick-ass villain.
So with that in mind, I went through Bleeder hating characters, attitudes, and situations, but absolutely loving the book because of it.
For me, this work delved a bit into women's fiction with its clash of opposing ideas. On one hand, it celebrated womanhood by making fertile women the most valuable resource on the planet. On the other hand, they were just that… resources–either breed for the planet or face the consequences.
Then there was the idea of motherhood. In Spiderwork, the women seemed to want to be mothers, but responsibilities forced on them by society denied them that opportunity. They were breeders, nothing more. This time around, the breeds mocked and criticized any birth mother for holding any emotional attachment to a child. The Chosen were brainwashed into believing that motherhood was something to be scorned. It was a rather disheartening future to think something so natural would be frowned upon. All in all, it was like two giant leaps backward for women.
Bleeder had such a deep message which dealt with human rights and politics. In many ways the society lost its spirit. Lack of choices made them complacent with the way things were. Even those in charge of making the rules were complacent. Each new ordinate chipped away freewill leaving an entire society of slaves with varying privileges. I could see our society becoming like that.
Overall, I truly enjoyed this book. Bleeder came pretty close to a 5 star read. Like I said, it was full of issues I LOVED to HATE. I recommend this work to readers who enjoy exploring human rights.
By the way, romance lovers… this does have a happily ever after.
A few of my favorite lines:
"I kept the sun out of her eyes."
Pleasure sure did look  hilarious on other people.
She had that completion tat in addition to the traditional roses, but it was impossible to imagine any man brave enough to enter this woman.
Last minute comments
The question which continued to be on my mind throughout the novel was, "What are ghosts?" 🙂 Great news all! Ms. Rigel has added a Lexicon to her website which answers that question and many more.
This story was well beyond the time of Char's story, Space Junque (see review here). Though we get an idea of what happened to her sister Sky Meadowlark, we never get the entire story. I do hope to see Sky's story in the future. If you didn't catch my review of Spiderwork, you can read it here.
If you don't already have the Ex Post Apacolypto series, you can find them at the following locations: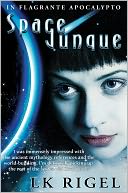 Space Junque is available at:
S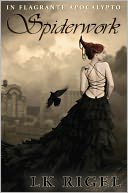 piderwork is available at: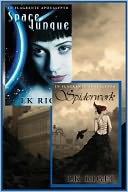 Or get both Space Junque & Spiderwork in a 2-pack deal at: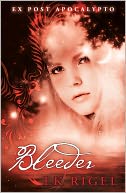 Bleeder is available at Barnes & Nobles || Smashwords || Amazon