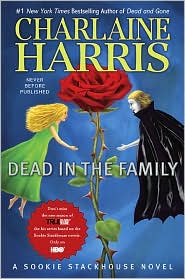 As some of you might recall, Dead in the Family by Charlaine Harris was one of those books I desperately wanted to win. Well, I didn't win it. 🙁 So I bit the bullet and purchased it myself.
One aspect I enjoyed was being able to read it with the voices from True Blood, particularly Anna Paquin as Sookie.  I even put a little Rutina Wesley as Tara, but she didn't have the same 'slap my boss' kind of spunk as in the True Blood series. Oh…I'm getting ahead of myself. 🙂 Let's start with the blurb from Goodreads, since I couldn't find it on Ms. Harris' website:
Sookie Stackhouse has finally settled into a relationship with the Viking vampire Eric, and her errant brother Jason seems to have his life in order, too. But all the other people in Sookie's life – Eric himself, her former lover Bill, her friend and boss Sam – are having family problems. Eric's maker shows up with Eric's 'brother' in tow, the ailing Bill can only be healed by a blood sibling, and Sam's brother's marriage is about to take place… or will it? The furor raised by the coming out of the two-natured has yet to settle; some people are just not ready to sit down to dinner with a man who turns into a dog. And Sookie herself is still recovering from her last ordeal. She's definitely improving, physically and mentally, but she's always going to have some dark moments now. The werewolves tell her that there have been strange and ominous passers-by in the Stackhouse woods; now Sookie is about to come face-to-face with one of her more distant relatives…
There! 🙂
Okay, the first 36 pages of my book, which happened to be seven chapters, had the feel of a prologue (back story) and lead to the start of the book (Chapter 1). Normally, I'd think it's a waste of paper. However, it'd been over a year since I'd read any of the Sookie Stackhouse stories, so it was a nice refresher.
And then the story started! I dove in all excited, cause I knew what was going on and didn't have to look up anything in prior books. Only thing, the story didn't start. Not really. I just followed Sookie through her drab life. She woke up, had breakfast, went to work, drove home, and went to sleep. Day after day, the same routine. The only difference between one chapter and the next was the people she met.
I swear, it was the cast of a thousand characters. EVERY SINGLE character from EVERY SINGLE novel was mentioned in this book. I think Sookie said it best on page 183, Whew. I felt like I'd run an introduction marathon. And through it all NOTHING happened. NOTHING! And I'm wondering, how in the world someone write a mundane paranormal book? If that isn't an oxymoron, I don't know what is.
On page 212, Sookie thinks, And why hadn't anything already happened? It was then I realized Ms. Harris must be toying with me. This had to be her test to see how many people would buy her books regardless of how mundane the storyline. Yep. I fell for it. 🙂 You got me real good, Ms. Harris. One point for you! Not only that, but I actually finished it! haha Two points for you!
Let's see if you trick me again.
By now, you probably realize this was my least favorite of the Sookie Stackhouse series. I do have to give Ms. Harris props, though. This novel provided closure. Between reintroducing me to every character ever invented, she managed to wrap up all the loose ends from the prior books. At least the loose ends I can think of. As such, I'd say if the series ends here, I'm all for it.
Available at Barnes & Nobles || Amazon
|| The Book Depository || Kobo || iTunes