I first saw the cover of Divergent by Veronica Roth MONTHS ago and loved. I'm typically not a sucker for covers these days. I've found the promise on the front often doesn't match the crap on the inside, while books I'd normally pass over because the cover (The Hunger Games and Mind Games), I absolutely loved. Well, I let myself get drawn into this one, but only because the reviews were so wonderful. 🙂 Before we get into whether the book lived up to the cover, how about the blurb from Goodreads:

In Beatrice Prior's dystopian Chicago, society is divided into five factions, each dedicated to the cultivation of a particular virtue—Candor (the honest), Abnegation (the selfless), Dauntless (the brave), Amity (the peaceful), and Erudite (the intelligent). On an appointed day of every year, all sixteen-year-olds must select the faction to which they will devote the rest of their lives. For Beatrice, the decision is between staying with her family and being who she really is—she can't have both. So she makes a choice that surprises everyone, including herself.
During the highly competitive initiation that follows, Beatrice renames herself Tris and struggles to determine who her friends really are—and where, exactly, a romance with a sometimes fascinating, sometimes infuriating boy fits into the life she's chosen. But Tris also has a secret, one she's kept hidden from everyone because she's been warned it can mean death. And as she discovers a growing conflict that threatens to unravel her seemingly perfect society, she also learns that her secret might help her save those she loves . . . or it might destroy her.
So I hopped into this book and my first thoughts were this is rather telly. I have to admit, I was a bit worried. However, the idea of the different factions piqued my curiosity. My worries didn't last long, because the story line kept me engrossed to the very end. This mammoth of a book (nearly 500 pages) took me all of two days to finish. I'm an avid reader, but I'm no speed reader. But it was good enough I devoured it. Rawr!
One of the aspects I loved about Divergent was the characters… they were all human. And I don't mean human as in not the shape-shifters I so love, but rather human as in flawed. Not one person in the novel was invincible. Though it's generally unheard of the heroine to meet her demise, even Tris had vulnerabilities which made her susceptible to a quick end. She certainly had her fair share of injuries. So Tris had her physical weaknesses, but mentally she was a tiger. At times she was even overconfident. I could relate to her.
As for the story line, it often reminded me of The Hunger Games. The stakes weren't nearly as high–there can be only one–but that's not saying much considering the outcome for the characters who didn't meet their goals. Looking at my notes, I made a few predictions. All but one came to be true. 🙂 I'm still holding out for the last prediction which might occur in a sequel. That's not saying the story was predictable… just a few character aspects.
Back to the book living up to the expectations of the cover art. I'll say yes and no. The book was great. I loved it! However, when I found out the meaning of the symbol, I was a bit disappointed at the one dimensional aspect of it. Still wicked looking cool though. If you enjoyed The Hunger Games, I say give Divergent a try. Lots of entertainment to be had.
I had a couple of passages I loved. And now I'm sharing them with you. 🙂
I don't understand why, but I don't want Eric to look at me any longer than he already has. I don't want him to look at me ever again.
"What is the point in providing food and shelter for an animal that just soils your furniture, makes your home smell bad, and ultimately dies?" ***OMG! I so get this. I've mentioned this before, but I'm totally not an animal lover. But I married a husband who owns a dog. I want the best for this dog for my husband's sake… but really, I can't stand the thing. He stinks… and I'm not just talking about the typical dog odor… I'm talking about old gym sock stink because he needs to be bathed more often than my husband thinks. When I became the alpha female of the house, I ruled no dogs on the furniture. The rule holds up when someone's in the house, but when we leave, it's on. This weekend we came home and the filthy beast had ripped a hole in my loveseat. GRRRR Thanks for listening.
So I was thinking about which faction I'd fit into best. My ex-husband once told me that I didn't care enough to lie. I wouldn't say that. I do care, a lot. I just think lying is more hassle than it's worth. HOWEVER, as I've gotten older, I've learned to say less about things I dislike… sometimes. 🙂 But I swear it's like having Tourettes and trying to hold back a twitch. Eventually, the truth builds up and explodes out of me. So I'm going to say Candor would welcome me with open arms.
What faction would you be?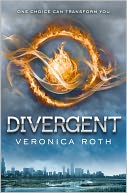 You can find Divergent by Veronica Roth at: