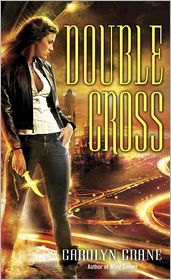 Despite absolutely loving Mind Games (see review here), it took me awhile to get around to ordering Double Cross by Carolyn Crane. I think part of the reason was the lapse in time between the time I read Mind Games and the release of Double Cross. Some of the excitement faded as other new releases hit the shelves. I don't know why I'm rambling about this. To the blurb!
SOME SECRETS COME BACK TO HAUNT.
OTHERS COME TO KILL…
Justine Jones has lived her life as a fearful hypochondriac until she's lured into the web of a mysterious mastermind named Packard. He gifts her with extraordinary mental powers-dooming her to fight Midcity's shadowy war on paranormal crime in order to find the peace she so desperately craves.
But now, serial killers with unheard-of skills are terrorizing the most powerful beings in Midcity, including mastermind Packard – and his oldest friend and worst enemy, Midcity's new mayor, who has the ability to bend matter itself to his will.
As the body count grows, Justine faces a crisis of conscience as she tests the limits of her new powers and faces an impossible choice between two flawed but brilliant men . . . one on a journey of redemption, and the other descending into a pit of moral depravity.
So the saga continues with Justine, my favorite hypochondriac. After reading Double Cross, I have to say, Mind Games is still my favorite in the series. Double Cross wasn't bad, I think it just lacked the newness I experienced with Mind Games.
Justine was pretty much the same gal from the prior book. It wasn't until the she was backed into a corner that she put her foot down. I don't know if I'd call it character growth, but more on the lines that everyone has limits.
She spent a lot of time getting to understand the inner workings of Packard and Otto. In many ways, Double Cross seemed to be more about those two guys than Justine. This time around I learned so much more about the men in her life. The actions they were willing to take in order to come out on top amazed me. I loved them; I hated them. Packard really showed some character growth, while Otto made quite a showing for himself also. Well, I want to go into more detail, but everything which pops into my head is a spolier, so I'll just leave it at that.
(Sub)plots: The early parts of the novel reintroduced me to the secondary characters. Definitely something I needed considering how long it'd been since I'd read Mind Games, even if it did make for a slow start. I'd say the subplots were mostly setups for the grand finale which ended in a cliffhanger. And what cliffhanger it was. When Justine was saying, "Oh my God" so was I. 🙂 I'm more than curious to know how this trilogy will end.
A couple of my favorite lines:
"If you ignore me and nobody's there to see it, are you really ignoring me?"
"Sometimes you have to be a bad person to save yourself, and it takes a little chunk out of your soul, but you do it anyway."
So like I said, I didn't like it as much as Mind Games, but it was still pretty decent.
Available at Barnes & Nobles || Amazon
|| The Book Depository || Kobo || iTunes