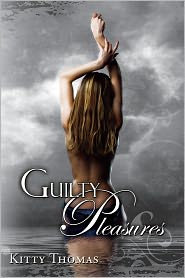 (review here). I couldn't stop talking about it. I absolutely loved that story. I want to rave about it more, but it's not Comfort Food's turn; it's Guilty Pleasures. 🙂 So before I get too deep into Ms. Thomas' latest addition to BDSM, how about a bit of a blurb from her website?
Vivian Delaney leads a life of privilege, but behind closed doors she feels isolated and trapped in a gilded cage. Unable to achieve sexual pleasure with her husband, she finds herself in the capable hands of Anton, a massage therapist intent on awakening her to her full sexual potential. By any means necessary.
As their secret meetings progress, she falls farther down a rabbit hole where the line between rape and illicit affair grows increasingly blurred. Anton will accept nothing short of her complete surrender as he molds and shapes her to be sold to the highest bidder.
DISCLAIMER:
This is a work of fiction, and the author does not endorse or condone any behavior done to another human being without their consent. Further, this book contains no use of condoms or talk of STDs. It is fantasy, not reality and should not be read in any way as resembling reality.
Warning: This book contains sexual situations of dubious consent, coercion, sexual blackmail, kidnapping, multiple partners, master/slave, girl on girl, humiliation, boot worship, oral play, and anal play.
Yowsy. 🙂 Talk about getting your freak on.
Before I get into this, folks should know I'm not a fan of BDSM. I'm all for a little tying up and light spanking… the "let's have a little fun, honey" play. Guilty Pleasures was the real deal—full blown BDSM slave/master kind of thing. I know Comfort Food was full of that, but it was a bit different… more of a psychological thriller, and appealed to me as a woman.
That's not to say Guilty Pleasures wasn't a decent read. I think folks who enjoy BDSM would truly enjoy this work. It had a very realistic feel to it. I could totally see the situation Vivian landed in happening. And though I would not have acted the way Vivian did if I were in her situation, for her personality, I thought it was very believable.
As a heroine, I wasn't fond of Vivian. She was quite the tearful sort of gal. However, I knew a girl like that, when I was in the military, who cried over just about EVERYTHING. Me being a girl raised amongst 4 boys, I've always been too prideful to be free with my tears. So I had a hard time dealing with her.
The males in the book, I loved. They gave as much as they took (pleasure that is).  They were firm masters but never cruel. I really liked that. It made the situation seem less abusive and more like tough love.
So, Guilty Pleasures wasn't for me. Does this mean I won't be on the look out from Ms. Thomas' next work? Not by a long shot. Straight BDSM isn't my type of genre, but the story was well-written. It's kind of like me being a fan of J.R. Ward's BDB series, but not being into her contemporary Jessica Bird works. Some styles just fit better for me. Anyway, Ms. Thomas plans to do something unique with each one of her works, and I look forward to what she plans in the future.
You can find copies of Guilty Pleasures at Barnes & Nobles || Amazon
|| The Book Depository || Kobo || iTunes || Smashwords
To find out more about Ms. Thomas, visit her website. All her talk about Tender Mercies has really gotten me curious. 🙂
I promised winners, right? Coming out the door, I had a few individuals interested in receiving a copy of Shadow Cat. The winners are: Lucy, Claire Gillian, and Sabina Edwards. They've all been emailed their Kindle Edition of Shadow Cat. Enjoy! If you didn't win, Shadow Cat is is available on Smashwords, Amazon, and Barnes & Nobles. Ya'll come back now, ya 'ere?"