***Here's something odd. I was going through my posts and noticed this as a draft. Apparently, I never posted it. Oops. Guess that's good in a way, cause I haven't read a book for this week's Monday review. Guess what you get. :)***
I've been sitting on Halfway to the Grave by Jeaniene Frost for awhile–since July 2010. I started reading it, then a book by one of my favorite authors arrived, and I set it aside. It's so difficult for me to pick up a book once I set it aside. Not sure why, but I finally decided to try this one again. Before I get into the second chance I gave this book, how about the blurb from Ms. Frost's website:
Flirting With The Grave…
Half-vampire Catherine Crawfield is going after the undead with a vengeance, hoping that one of these deadbeats is her father – the one responsible for ruining her mother's life. Then she's captured by Bones, a vampire bounty hunter, and is forced into an unlikely partnership.
In exchange for help finding her father, Cat agrees to train with the sexy night stalker until her battle reflexes are as sharp as his fangs. She's amazed she doesn't end up as his dinner – are there actually good vampires? Pretty soon Bones will have her convinced that being half-dead doesn't have to be all bad. But before she can enjoy her status as kick-ass demon hunter, Cat and Bones are pursued by a group of killers. Now Cat will have to choose a side … and Bones is turning out to be as tempting as any man with a heartbeat.
Cat played a strong, though immature heroine. Given her age of 22, I think it was fitting. Then there was Bones, the older mentor. The contrast between the two was wonderful and believable.
One of the first things I noticed about Halfway to the Grave is pretty much all the information was heavily front loaded. Cat came into the situation virtually clueless about the life of vampires, while Bones knew all. 🙂
My husband introduced me to a term a while back called the Audience Surrogate. Though Cat was the main character, she played that role, asking all the needed questions to fill in the back story. I wasn't fond of the style as it seemed like an easy way out and a bit telly rather than showy, but at the same time it was nice not to be clueless about the rules of the game.
The novel started a bit slow for my liking. It's about 350 pages or so, but it wasn't until about 150 pages into the story I actually got an inkling of the plot. Prior to that, Cat just lived her life with Bones, knocking out small task after small task. In the end, Bones' quest set the real stakes to the story.
This is one of those books I'm having a horrible time rating. Here's the thing. The first third of the book was rather bleh and full of information rather than story. The second third introduced the plot (Bones' quest). It was interesting but not spectacular (so-so). Then I hit the last third of the book and was blown away. The stakes were high and full of thrill. 🙂 I'm going to give her next book a chance just because of the ending. If One Foot in the Grave is as good as the end of Halfway to the Grave, I can definitely see myself becoming a fan of Jeaniene Frost.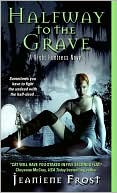 Find Halfway to the Grave by Jeaniene Frost at the following locations: