As you might remember from the last review, I picked up the first four books of the Maximum Ride series by James Patterson. Up next is School's Out — Forever. I hopped right into this one right after reading The Angel Experiment, which took me two days to read. Two days later, I'd finished School's Out — Forever. Before the review, the blurb from Mr. Patterson's website:
Max's heart-stopping quest to protect her "family" and investigate the mind-blowing mystery of her ultimate destiny continues in the scariest, strangest, and funniest James Patterson thriller yet.
THE ANGEL EXPERIMENT WAS JUST A TEST DRIVE. NOW, BRACE YOURSELF FOR THE MAXIMUM RIDE!
School's Out — Forever had a similar theme to The Angel Experiment. The only real difference was a change in scenery. The flock met new friends they'd ultimately have to leave and were constantly on the run from the Erasers who seemed to pop up out of the blue. The on-going question was, how were these freaks finding Max and her buddies?
Again we saw the first point of view (POV) for Max and the third POV for everyone else. One of the joys this time was the villain POV, Ari! Ooooo. Ari was an odd sort of fellow–a seven-year-old trapped in an Eraser's body. At times, he seemed very childish then all of a sudden he'd have a grown up moment. I was never quite sure about him. One thing for certain though, that kid needed some serious hugs.
Max met a few questionable entities this time around. I'm wondering what roles they'll play in the future, and if they'll be the good guys or the bad guys. Plus, I'm hoping to find out what happened to some missing villains in the next book. School's Out — Forever left so many things up in the air. All I can say is that I'm thankful I have the next two books lined up, and the next three after are available in bookstores.
I wish I had more to say, but really the story line was simple–stay one step ahead of the bad guys, and when that fails, fight like hell and fly like your life depends on it.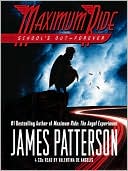 Find School's Out — Forever at:
Or try the three box set (The Angel Experiment (Book 1), School's Out Forever (Book 2), and Saving the World and Other Extreme Sports (Book 3). Three books in, and I'm still enjoying this story. Find it at: