Maximum Ride – The Angel Experiment by James Patterson was one of my bargain finds at the local used bookstore. I picked up the first book and thought, oh look… my oldest daughter was reading this a few weeks ago. Then I spotted another and another and another from the series. Freakin' jackpot! I'd managed to pick up the first four books of the series all for two bucks each! Hooyah! Originally I told my youngest daughter they were for her… kind of… for us, I mean. Unfortunately for us… I mean, her… we were both reached the end of our current reads at the same time. I pawned off some long ass series to her, which is more adult… okay… all adult <cough> BDB <cough> and hoarded the Maximum Ride series for myself. Yeah… I know I was wrong. This doesn't count as contributing to the delinquency of a minor, does it? She's still on Dark Lover, by the way, and I'm on the third book in the Maximum Ride series. I'm so thankful I didn't have to wait for her to finish. Blah blah… the blurb from Mr. Patterson's website:
Max, Fang, Iggy, Nudge, the Gasman, and Angel. Six kids who are pretty normal in most ways—except that they're 98 percent human, 2 percent bird. They grew up in a lab, living like rats in cages, but now they're free. Aside, of course, from the fact that they're prime prey for Erasers – wicked wolflike creatures with a taste for flying humans.
First of all, can I say AWESOME opening? Too bad it turned [SPOILER]. Guess you'll just have to find out yourself. Okay… seriously, the review.
Some interesting things about this book. The Angel Experiment is told from several viewpoints, but mostly Max's. Not strange in itself, but Max's (point of view) POV is told in first person while the other characters are told in third person. Kind of neat. I rather liked it.
The chapters are short-short. We're talking 2-3 pages, 4 pages MAX per chapter. The thing with the short chapters is they're almost exactly the way I read. I'm the type of gal who'll stop in the middle of a scene, which is what the chapters often did. Then when I come back to a work, I have to find where I left off. The chapters are so short, I have no problem making it to the next chapter. I think I might have stopped in the middle of a chapter once.
In terms of the writing, I think this work could have been a bit shorter. I know, I know… last week I was talking about lengthening Spiderwork… I just can't be pleased. Mr. Patterson seemed quite fond of repeating himself. Yes, I know Max has a 13-foot wingspan. Yes, Iggy is blind. Fang is the silent one. Angel is her baby. Nudge, by the way, is black. I thought I'd mention this because I don't think Mr. Patterson comes out and says it until the second book. Here she's called tanned… just clarifying an issue. 🙂 That was one tidbit Mr. Patterson didn't reiterate 30 times. Anyway, I'm just saying my attention span isn't so short I'd have difficulty remembering something three pages back.
Enough of that. I truly enjoyed The Angel Experiment. I'm already in book 3… so that says a lot. The only reason I'm not reading Saving the World and Other Extreme Sports right now is because I'm afraid the story lines will blend into one another. So why did I like this one, you ask?
Plotwise: The story kept me engaged. Even when I hit part 6 (last part) and thought how much I was tired of the cat and mouse games, I still had my nose in the book, wondering what's next. The entire story was pretty much about when the bad guys (Erasers) would show up and how Max and her flock would escape.
Characters: Each one was unique in their behavior, personality, and motivation. Funny thing about the thoughts and speech of the characters… they seemed a bit… not modern. Cause really, how many kids knew who Judy Garland was? It'll be interesting to see what my daughter says about it. I'll have to ask my oldest if some of these things were over her head. Being not so young, the analogies worked for me. I chalked off their cultural knowledge and references to being isolated from civilization for most of their lives.
I know this review is rather sparse, but really there wasn't much to the book. The Erasers came, the flock fought, the flock fled. Rinse and repeat.
Anyway, I leave you with my favorite line from the book (page 150):
You think you need all your stuff, your favorite cup, your best blanket, soap, your parents — and then you realize that all you really need is to be where the Erasers can't get you.
I swear, that line pretty much summed up the entire book.
By the way, if you stop with this book, you'll be lacking the entire story. This definitely ends in a "What's Next?"
Stay tuned for my upcoming reviews of the Maximum Ride series.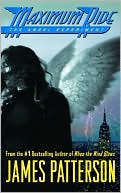 Find The Angel Experiment at:
Or get started with the three box set (The Angel Experiment (Book 1), School's Out Forever (Book 2), and Saving the World and Other Extreme Sports (Book 3). Three books in, and I'm still enjoying this story. Find it at: