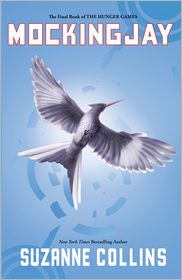 I fell in love with Hunger Games (review here). It was one of the first YA novels I'd read as an adult. I followed Katniss through the first reaping and Hunger Games, then again through the Quarter Quell. I fell in love with her and the characters, as fleeting as some of their lives were. I did my best to avoid reviews of Mockingjay by Suzanne Collins. Yes, I looked at folks' ratings. From what I saw, the rates were across the board. I didn't know what to expect. 🙂 So before I begin, how about the blurb from Ms. Collins' Website:
Katniss Everdeen, girl on fire, has survived, even though her home has been destroyed. There are rebels. There are new leaders. A revolution is unfolding.
Yeah…that's all I found, as far as a blurb. Okay. I'm going to do my best not to be snarky in this review, despite feel that way toward the book. I'll start by saying I disliked Mockingjay as much as I loved Hunger Game. The pacing was inconsistent with long (not passages) chapters of reflection and back story with little action. Every time I thought I'd hit the beginning of the book, I'd flip to the next page and find myself trapped in more drivel. Honestly, if I hadn't been so invested in the Hunger Games, this would have been a Did Not Finish (DNF). As it was, I just wanted to know what happened to all my favorite characters from the prior two books.
If someone were to ask me where the story began, I'd say about page 230. Then the story ended about page 350, except somehow another 40 pages got tacked to the back for some reason. Given that, I'm not really sure why Ms. Collins didn't just add an extra 100 pages or so to Catching Fire (review here) and be done with the series. This certainly didn't have to be a trilogy.
As far as the characters, Katniss was as drab as the storyline. She spent the entire book wallowing in self-pity as a pawn. She wasn't the subject of Mockingjay; she was the object and did nothing to propel the story forward. I know this is an odd thing to say, but I think Mockingjay would have been better without her. Maybe if the story was told from someone's perspective who had a little more spunk…like Buttercup, maybe.
Good thing there was a lot of hype before the release. Folks flocked to the bookstores and preordered without know any about the book other than that they liked The Hunger Games and Catching Fire. One thing for sure, I can see why the publishers didn't release any ARCs. If reviews had gotten out prior, a lot folks would  have passed on this one. I for one feel jilted. I can honestly say, customer loyalty has waned for me. Needless to say, I spent quite a bit of time yelling at my husband about this novel.
Big breath. Now for praise. One thing Ms. Collins has going for her is she's not afraid to kill of her characters. The good guys don't always win, so it's nice to see a bit of realism once in a while. On the other hand, EVERYONE important doesn't have to die. And I have to admit, I was a bit angry at one or two of her choices. And I might have been able to get over it if the ending wasn't so lame. Oops. I'm suppose to be in praise mode. Let's just skip to the favorite lines.
Gale had two sets of bows and arrows, one hunting knife, one fishing net, and over eight hundred terrified people to feed. *By the way, I did enjoy Gale. He was willing to make some of the tough choices. No apologies. A sad kind of strength.
"No, I want you to rethink it and come up with the right opinion." *Sometimes I feel like this when arguing with my husband. 🙂 Why can't come up with the right opinions (my opinions)?
"This time Snow will be a player, too."
Available at Barnes & Nobles || Mockingjay (The Final Book of The Hunger Games)
|| The Book Depository || Kobo || iTunes