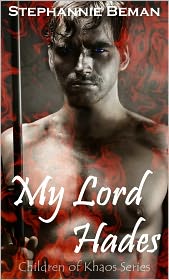 I've been getting my feet wet lately with Indie authors. It's been an experience for me. 🙂 It's taken me a bit to warm up to indie work, but I'm seeing many of the story lines are just as entertaining as works published the traditional way. Up this week, I decided to give My Lord Hades by  Stephannie Beman a try. I have to admit, I cheated before diving head first in this work. I headed over to Smashwords and download the sample. About 87% into the sample, I decided to hit up Ms. Beman on her giveaway offer. For a review of My Lord Hades, she'll provide you a copy for free. Her offer ends tomorrow, by the way. So it's not too late receive your own review copy. The blurb from Ms. Beman's website:
In a world where Gods rule and Daemons are feared, Hades, the most notorious Phlegethon daemon-god to roam the ancient world, is released from his prison in Tartarus by the Olympian Zeus to aid in the war against the Titians.
Past shrouded in darkness, Persephone, daughter of the earth goddess Demeter, heals from the ordeal that stole her memories and the magic that is an integral part of who she once was. When she meets a stranger in the woods, her life is forever changed. But does she have the courage to stand against the will of the other gods and claim the only man she has ever loved when any moment could bring back her memories and change her feelings for him?  Does she have the strength to keep what is hers when an ancient enemy returns to destroy all she has worked for?
Betrayed by the Gods he once served, battle-weary Hades promised to never allow another god power over him, but he didn't plan on the intervention of the Fates intertwining his future with the stunning woman dancing in the moonlight, or the rise of his Phlegethon nature that demands he claim her as his own. Persephone has become the siren calling him, promising the completion of heart and soul, but only a fool accepts the gifts of a siren, or fight against the will of the Fates.
I downloaded my sample and dipped my foot in. I was a little tentative… okay, a lot tentative. 🙂 Am I going to like it? I hope it's good, my mind said as I read. A few hours later, the sun was rising, and I'd stopped squinting at My Lord Hades like it was out to get me. I could have starred in the Mikey Life Commercials. "She likes it. She likes it. She really likes it." I sent off a request and a coupon for a free copy was in my emailbox when I woke up the next afternoon. 🙂
Let's start with the characters.  Ms. Beman did a great job giving each of her characters a distinctive voice. Hades was burdened yet honorable. He was a break away from the gloomy Guses who are popular in many works today. Of all the characters, I'd say he was the most tenderhearted. Yet he was caring in a way which didn't detract from his masculinity. Well, done. 🙂 I liked him.
Persephone reminded me of a butterfly or Snow White. 🙂 Picture the scene where Snow White or any of the Disney Damsels who sing, dance, and just enjoy life. That was Persephone. I worried I'd grow tiresome of her frolicking, but as the plot unfolded, so did other facets of her personality. I admit, Persephone wasn't one of my favorite heroines. Mostly because I don't go for the damsels in distress type. However, Ms. Beman gave excellent rationales behind Persephone's early behavior and by the end of the story, there was definitely character growth.
Plot wise. 🙂 I'm a sucker for Greek mythology. I got into it when I was a young girl, and it's held my interest ever since. I expected to read a typical mythology about Hades and Persephone with the same old storyline, but fleshed out as Ms. Beman gave it her own voice. Boy was I wrong. 🙂 Ms. Beman took liberties in weaving this story. Much is the same, so that it has the Greek Mythology feel, but a few deviations here and there really added a flare. It kept me on my toes, since I wasn't sure how the storyline would differ from what I've read of Hades and Persephone in the past.
I know this is a nitpicking type of thing. But if you've read my other reviews, you know I'm prone to it. The story starts with a Prologue. Now I'm one to read prologues cause I'm afraid of missing things. This year, I found many people skip over the prologue. The prologue for My Lord Hades reads like a first chapter. It's a shame Ms. Beman didn't label it as such. I think she missed an opportunity there.
One item I believe this work could have benefited from was another pass at editing. Even so, the characters were well-fleshed. The plot was interesting and fresh. Overall, I enjoyed it. 🙂 Not bad for a debut novel.
A couple of my favorite lines:
Yes, I've been lurking in the forest waiting to ravish you, Persephone.
"Has it been so long that you don't remember what men and women do behind closed doors?"
My Lord Hades available at Barnes & Nobles || Amazon
 || Kobo || iTunes || Smashwords