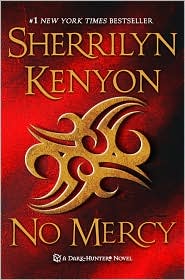 Sherrilyn Kenyon was my first love when it came to Paranormal Romance. A bookstore clerk introduced her to me after Anne Rice stopped writing her vampire series. The Dark Hunter series completely captivated me. And I was lucky. 🙂 By the time I got to Kenyon, she probably had ten books published in the series. So getting my fix was no problem. I wasn't so fond of the Dream-Hunter accompanying series, but I got over it and pushed on. All was good until I hit Bad Moon Rising, the novel prior to No Mercy. I'm not going to go into Bad Moon Rising, other than say I was sorely disappointed. In fact, I questioned whether I'd ever buy another Kenyon novel after that.
Well, instead of spending my hard earned money on the next questionable Dark Hunter book, I decided to enter giveaways. And wicked awesome! I won a copy of No mercy in a Dark Faerie Tales giveaway! So, before I get into what I thought of Kenyon's latest Dark Hunter release, a blurb from her blog:
Dev ~ A bouncer and self-proclaimed bodyguard for Mama and Aimee, Dev keeps a close eye on all the females at Sanctuary to make sure no one harasses them (unless they want to be harassed with the exception of Aimee–no one touches her).
Samia ~ Samia puts "hunt" in the word Dark-Huntress. She loves a good chase and thrives on toying with her prey.
As lethal as she is beautiful, Sam enjoys her job and lives for the nighttime where she is free to roam the streets. But unfortunately her immortality comes with a steep price that has made her slightly insane…
She is one of the infamous Dogs of War. Hunters so bad, they are constantly watched.
The story starts shortly after Bad Moon Rising. So for those of you worried about getting a repeat of a prior Dark Hunter novel, don't worry. You're okay with this one. 🙂 Though I was apprehensive going in, I got more and more excited about this work as familiar names cropped up. It was like going to a high school reunion and thinking, hey! I know him! Absolutely loved it.
As far as the romance, I wasn't so much into it. It was lust at first sight, which I totally dig. However, it was tainted with thoughts like, what is it with this guy/gal which attracts me? Hello, maybe it's the hot bod? I don't know. Maybe it's just me. But if I'm into a dude, I totally know the reason behind it–he's drop dead gorgeous, he's masculine to the point it makes me drool, he's got sexy glasses, he's smart… whatever. I hate when characters play like they don't get it.
On the other hand, if I take the romance out of the equation and stick to the Urban Fantasy portion, I say this book was pretty fun. Kenyon detoured into a few secondary point of views (POV). And I know I've mentioned hating that in the past. But with the romance falling flat with Dev and Samia (we all know how Kenyon books end with shifters), the secondary POVs held more excitement.
Striker returned all bad ass and such. Plus we got a teaser from his ARC. I'm totally itching to find out what's happening next with him. Nick… oh so sexy Nick made an appearance. Oh how we love Nick. I'm hoping Kenyon builds him up like she did Acheron. Cause really the entire series fell kind of flat after Ash's novels. Maybe Nick will help give it that umph it's been missing.
At times it seemed as if Ms. Kenyon might have written herself into a corner. Some of the solutions seemed a bit far-fetched with no precedents. And it's rather lame to have all-powerful Acheron available to save the world as needed. As much as I love Acheron, I hope he gets imprisoned so folks can work their own way out of the tough situations.
One thing I didn't like was the Greek symbols. It's one thing not knowing a language but recognizing letters. The phrases here, I couldn't even sound out because the symbols were foreign to me. And no glossary in the back. It'd be like me sticking stuff like 안녕하세요 in my posts and saying it pretty much means "hi" then moving on. The quick references were quite irritating to me. For those who are curious 안녕하세요 is Korean which literally means are you at peace? The English spelling would be anyong haseyo.
No Mercy had quite a bit of slapstick humor. Some lines were pretty cheesy, but I had quite a few favorites. Tough job only sharing a few, but here goes:
"Last time a woman read my thoughts, I got bitch-slapped so hard, my ears are still ringing from it."
"I keep telling you, Papa eats the dumb ones."
And that common sense begged him to tell Thorn to shove it up a part of his body he was sure Thorn kept clenched tight enough to form a diamond.
Bottom line: This wasn't Ms. Kenyon's best book. However she did redeem herself after Bad Moon Rising. I might not run out to buy her next release, but I do plan to get around to it eventually.
Available at Barnes & Nobles || Amazon
|| The Book Depository || Kobo || iTunes