I didn't realize when I first started reading Pleasure of a Dark Prince by Kresley Cole that this book actually parallels her previous books in the series. It was something I noticed in her last Novella "Untouchable." However, I had no idea it would become a theme with this series. Before I go any further into details, the teaser from Kresley Cole's website: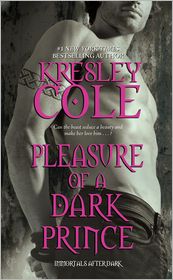 A DANGEROUS BEAUTY
Lucia the Huntress: as mysterious as she is exquisite, she harbors secrets that threaten to destroy her—and those she loves.
AN UNCONTROLLABLE NEED
Garreth MacRieve, Prince of the Lykae: the brutal Highland warrior who burns to finally claim this maddeningly sensual creature as his own.
LEAD TO A PLEASURE SO WICKED. . . .
From the shadows, Garreth has long watched over Lucia. Now, the only way to keep the proud huntress safe from harm is to convince her to accept him as her guardian. To do this, Garreth will ruthlessly exploit Lucia's greatest weakness—her wanton desire for him. . . .
The way Ms. Cole has played out this series makes me wish I had more time on my hands, cause my word! I'd love to read it from start to finish again. As I mentioned, it parallels her previous works. It's been so long since I read some of them, I can't remember all the fine details. Ms. Cole does an excellent job making the connections by giving insight to why Garreth and Lucia behaved in certain ways in previous books. I loved it!
The other thing I really liked about the plots converging is it gave the impression of everything leading up to a big finale. I love series which have a definite ending. They way Ms. Cole is playing this out with everything happening during the same time frame, I'm hoping for a grand ending in the (near? not so near?) future. I'm so excited, I'm giddy with the possibilities.
Often as I read, I find myself falling into critique mode. With Ms. Cole's books, that's hardly a problem. Why? She spins such and enjoyable tale, it's easy to step out of the critter role and stay into the reader role. I forget all the little bits which often draw my attention away, cause I'm so focused on the overall big picture. So involved with this book, I looked at my notes when finished and thought, oh crap. I have so little written, how am I going to offer a review? You rock, Ms. Cole. 🙂
Ms. Cole set high stakes for the hero and heroine. From the first chapter I wondered how Lucia would get past her oath. The answer was simple in the end. Somewhere in the middle of the book I had a pretty good idea what it was, which was a bummer. I definitely would have liked a little more mystery on that level. But being on the outside looking in, I could see how Lucia could miss the clues. 🙂
As for the characters, I loved that each one had a distinct personality which showed in the dialogue, internal thoughts, and actions. Well done, Ms. Cole. I was never at a loss to whose POV we were in.
I was quite fond of Garreth. His dialogue was cute, childlike, and cocky all at once. I loved that he had expectations and didn't shy away from them. He didn't play coy; he played smart. Garreth was so candid at times, I wanted to hate him, but really I loved his honesty! I loved the Archer. Her personality of what she wanted and the blame game reminded me so much of myself. I loved her realistic womanly qualities. Okay, a few too many "loved" in there. I'll try to tone it down. Moving on.
The only item I really disliked in the book was Lacklain's POV. I found no value in it and wondered why it was there.
On an off note: I so love Nix. I hope to see Nix's story soon, but I'm afraid once Kresley writes it, it'll be the end of the IAD series.
Anyway, keep up the good work, Ms. Cole. I'm looking forward to the next installment.
Available at Barnes & Nobles || Amazon
 || The Book Depository || Kobo || iTunes