This was another one of those lost books on my Kindle, so I'm going to do my best. 🙂  The blurb!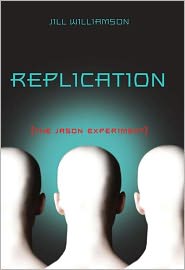 When Your Life Is Not Your Own 
Martyr—otherwise known as Jason 3:3—is one of hundreds of clones kept in a remote facility called Jason Farms. Told that he has been created to save humanity, Martyr has just one wish before he is scheduled to 'expire' in less than a month. To see the sky. Abby Goyer may have just moved to Alaska, but she has a feeling something strange is going on at the farm where her father works. But even this smart, confident girl could never have imagined what lies beneath a simple barn. Or what would happen when a mysterious boy shows up at her door, asking about the stars. As the reality of the Jason Experiment comes to light, Martyr is caught between two futures—the one for which he was produced and the one Abby believes God created him to have. Time is running out, and Martyr must decide if a life with Abby is worth leaving everything he's ever known.
This book was provided by the publisher through NetGalley
Available at Barnes & Nobles || The Book Depository
Replication had two story lines. The first centered around Abbey, a gal who's moved into a new school from DC to AK after her father landed a new job. I have to say, I wasn't at all impressed with this portion of the novel. Abbey came off as snobby and a goody-goody. I'm not quite sure what her problem was. I will say her attitude did nothing for the storyline. When she wasn't snubbing those she'd labeled beneath her, she spent the rest of her time reading.
🙂 Now I'm all for reading… I'm a big reader myself. But I don't want to read about someone else reading. I want to read about people doing interesting things.
So looking through my notes, I didn't have a lot of nice things to say about Abbey. In truth, Abbey had quite a lot of potential for growth. Unfortunately, her growth came as a verbal proclamation rather than showing she truly changed.
The second storyline was related to the Jason Experiment with Martyr being one of the Jasons. I very much enjoyed this portion of the book. The only gripe I had was Martyr seemed a little too perfect. He was altruistic to a flaw. Still, I kept coming back to the story to read what would happen next to him.
I would love to read follow up stories to the Jason Experiment… see how Jason 3:3 faired as well as the other clones. Even though the clones seemed to be two dimensional characters (for instance 3:3's altruism), they were a fascinating bunch.
This novel also had a Christian undertone. If God made humans with souls, did clones (made by man) have souls also? Hmm…
Overall, this was a great novel. I truly cared about some of the characters. And like I said, I would love to learn more about their lives. 4/5 star read for me.