Spellbound by Cara Lynn Shultz is one of those awesome offering from NetGalley. I'm starting to love the NetGalley program. So I requested this novel after maybe seeing the novel on someone's blog, maybe not. Anyway, the publisher approved me for a copy, and I'm thrilled. Before we go into the review, how about a blurb from Ms. Shultz's website?
What's a girl to do when meeting The One means she's cursed to die a horrible death?
Life hasn't been easy on sixteen-year-old Emma Conner, so a new start in New York may be just the change she needs. But the posh Upper East Side prep school she has to attend? Not so much. Friendly faces are few and far between, except for one that she's irresistibly drawn to—Brendan Salinger, the guy with the rock-star good looks and the richest kid in school, who might just be her very own white knight.
But even when Brendan inexplicably turns cold, Emma can't stop staring. Ever since she laid eyes on him, strange things have been happening. Streetlamps go out wherever she walks, and Emma's been having the oddest dreams. Visions of herself in past lives—visions that warn her to stay away from Brendan. Or else.
I have to say, Spellbound was written in a way which kept me wanting more. I honestly wanted to know which big event would happen next, how the story would end. The author did an excellent job keeping me in the story. Great hook, awesome teasers. I think the biggest issue I had with the storyline itself is the wait never really panned out to anything significant. The book seemed to lack a real challenge for the heroine, in my mind.
As far as Emma, she wasn't the sharpest tool in the shed. In fact, she even mentioned her own stupidity at one time. I can't say I was fond of her. Some of the other characters were certainly amusing though. 🙂 Still, I had a difficult time relating with the characters as high school students. Perhaps high school has changed a lot since my time. It just seemed as if the students acted more like adults than teenagers, while Emma acted like a second grader at his/her goofiest moments.
All in all, this was a middle of the road read. Like I said, the book kept me involved until the end. I just expected a bigger bang and characters more high school-like.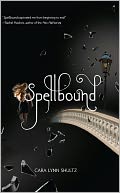 Spell bound is available at: