Apparently, I lost track of time with this Memorial Weekend holiday and missed doing this review. My apologies to all one and a half of you who follow Ramblings of an Amateur writer religiously.
Not too long ago Kitty Thomas offered me a copy of Tender Mercies in exchange for a review. I have to admit, I was a little apprehensive after reading Guilty Pleasures (review here). Not a bad piece for those into no-games true BDSM, but it wasn't quite the thing for this vanilla gal. On the other hand, I absolutely LOVED Comfort Food (review here). Before we go into whether Tender Mercies hit the spot or not, how about the blurb from Ms. Thomas' website:
"Grace. That word that finally meant something again. Mercy. Favor. Good will."
Fed up with play kink, Grace Warner moves to an island that embraces erotic slavery to be with a man she met online. Within hours of her arrival, everything is ripped from her, and she quickly learns play is preferable to the realities of actual enslavement.
Asher Collins has spent the past year mourning and blaming himself for the death of his slave, Darcy. When Grace catches his eye at a showing, obviously abused, he becomes obsessed with buying her and finding a way to atone for his own past sins.
DISCLAIMER: This is a work of fiction, and the author does not endorse or condone any behavior done to another human being without their consent. This work contains subject matter which is not appropriate for minors including depictions of abuse, slavery, dubious consent, and anal play.
Prologues seem to be going out of style these days. I mentioned a while back, quite a few folks skip prologues, like my daughter (to my surprise). Tender Mercies started off with a prologue, but unlike my daughter, I'm too afraid I'll miss something to skip one. So into the prologue I delved into it. When I reached the end, my thoughts were, wow! that was good! It added wonderful insight into Asher's personality and gave me an immediate connection. For those who skip prologues, I encourage you to give this one a shot. It left me quite satisfied.
So we get to the meat to the story. Riding along with Grace through the first few chapters was quite scary. Her desires to enter the BSDM world superseded rational thought. Yet in a way, I could relate to her desire to give up control but being too strong-willed and defiant do so in the normal world. Still, I couldn't imagine taking the leap of faith she did. Don't do it! I screamed at her. Of course she didn't listen and paid the consequences for her choices. Such horrible consequences. I felt awful about the ordeals Grace faced… almost to the point I wanted to cry for her at times.
Then we have Asher. The introduction of Asher's point of view is quite different from the prior works of Ms. Thomas. Whereas before, the males were secondary (though still important) characters in the story, this time around, we really get into the male mind. It was nice having an understanding of where he was coming from with the BDSM thing… a side I didn't really get with the first two stories.
All in all, I truly enjoyed this work. I could totally see an island like the one in the story existing. In fact, I wouldn't be surprised if one did. It had the Anne Rice Exit to Eden kind of thing going. I didn't fall in love with Tender Mercies like I did Comfort Food (keep in mind, only 3 works hit my all time favorites last year, Comfort Food being one of them), but Tender Mercies was well up there on the likeability scale. If you liked Comfort Food–the idea of a tortured woman finding herself–Tender Mercies might be right up your alley.
You can find Tender Mercies by Kitty Thomas at the following locations: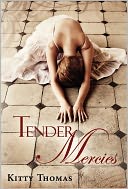 Smashwords