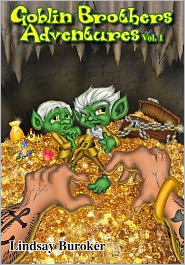 It just occurred me that I've been neglecting to feature the eBooks I acquire. I really gotta start doing that. For some reason, my mind hasn't quite wrapped around eBooks being real books. I think it's because I don't have anything to pet… other than an eReader. Or my computer, which is rather gay. The thing is the eReader looks the same on the outside no matter what's in the inside. Well, too late to do an "in my mailbox" post of this since I've already read it. Anyway, I picked Goblin Brothers Adventures Vol. 1 by Lindsay Buroker December 22. If you don't mind pretending this is the mailbox post also, I'd be so appreciative. Thank you very much. 🙂 Ramble ramble. Someone stop me. Okay, the blurb from Ms. Buroker's website:
They're short, they're scrawny, they're green, and they want to be heroes. The problem? Goblins are supposed fish, forage, and stay out of the world's way, not challenge odious villains.
But Malagach and Gortok aren't going to let a few rules keep them from their dreams.
Armed with their wits, their stolen (er, borrowed) books, and their scavenged tools, they're ready to eradicate the evils around their mountain home. Or get in a lot of trouble trying….
Included: seven short stories — 29,000 words
Middle grade books typically aren't my thing, but I found this read quite amusing. Goblin Brothers was also a joy to read to my preschooler. I admit some of the words were out of his league, especially with his communication delay. However, it would have provided wonderful learning opportunities for my daughters at his age. They had a vast vocabulary by the time they reached kindergarten because they was exposed to a variety of words.
Now, my hyperactive child didn't make it through every story, but he sat through some significant chunks. Then again, this book wasn't written for preschoolers; it was written for MG, right?
Ms. Buroker really stressed brains over brawn with these short stories with kind of an underdog feel to it… like with Harry Potter
Malagach was the main character while his brother Gortok played the supporting role. Good choice, I have to say. Why? Because Gortok often had the answers which saved them from a slow and painful death. 🙂 If you remember my Touched by an Alien review (see here), I'm totally not into the perfect heroes/heroines. Malagach added the air of imperfection which made the stories believable. Now I'm not saying Malagach was dumb or anything… far from it. The guy was loaded with book smarts. His problem was he had a difficult time applying those book smarts to real world fantasy situations.
Gortok on the other hand was the genius. He didn't come up with the initial ideas like Malagach. Rather he took those ideas and twisted them into something viable. Truly, I doubt the two goblins would have been so successful without one another. A match made in heaven or wherever GoblinLand. 🙂
The only issue I really found odd for this book was Malagach (11 years old) seemed a bit mature for his age. But he's a goblin, so age might equate differently. Dog years anyone? By the way, Gortok was 10 in these short stories. Of course, I often underestimate children, so I'll have to pass this on to my young teen and see how she likes this. 🙂
Now I'm not a MG fan, but the parent in me loved this book. The science and mathematical tidbits makes me wonder if Lindsay Buroker is a school teacher. 🙂
So let's end with a few of my favorite lines:
Finally the group had passed, and walking toward the beach laughing and muttering such classic goblin insults as "snot suckers," "troll dung eaters," and the ever witty, "orc lips."
"He was nastier than a troll's left cheek."
"That wakes you up like a troll kick between the cheeks."
"Freedom isn't something other people give you. It's something you make for yourself."
I can definitely see myself revisiting the Goblin Brothers Adventures when my little one is a little older.
Available at Barnes & Nobles || Amazon
 || Kobo || iTunes || Smashwords
By the way, check back later this week. Ms. Buroker will be joining us in our Blogoversary Celebration.