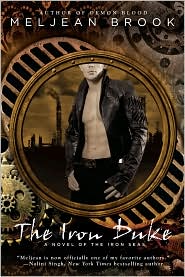 Welcome to another episode of Reena come lately. I picked up The Iron Duke by Meljean Brook after reading her novella Here There Be Monsters in the Burning Up Anthology (review here). If you're too lazy to read the review, I will say it was an excellent Novella. I certainly was looking forward to reading the Iron Duke. 🙂 So the blurb from Ms. Brook's website:
After the Iron Duke freed England from Horde control, he instantly became a national hero. Now Rhys Trahaearn has built a merchant empire on the power — and fear — of his name. And when a dead body is dropped from an airship onto his doorstep, bringing Detective Inspector Mina Wentworth into his dangerous world, he intends to make her his next possession.
Mina can't afford his interest, however. Horde blood runs through her veins, and despite the nanotech enhancing her body, she barely scratches out a living in London society. Becoming Rhys's lover would destroy both her career and her family, yet the investigation prevents her from avoiding him…and the Iron Duke's ruthless pursuit makes him difficult to resist.
But when Mina uncovers the victim's identity, she stumbles upon a conspiracy that threatens the lives of everyone in England. To save them, Mina and Rhys must race across zombie-infested wastelands and treacherous oceans — and Mina discovers the danger is not only to her countrymen as she finds herself tempted to give up everything to the Iron Duke.
First off, I have to say, Ms. Brook is an EXCELLENT writer in my opinion. I love her style. She's one of those writers I don't even get a chance to go into critique mode. Bravo!
On to the characters. 🙂 Majority of this story was told from Mina's POV, so I really got a sense of her personality. I rather liked her. She had a hard outer shell and a soft interior. For the most part, well-balanced and acted true to her character. She was a woman I could admire. Rhys, I had a love-hate relationship with him, or rather I didn't understand him very well in the beginning. He seemed to suffer from the same syndrome as Eben–lustful but without any particular reason… at least not at first. His determination to possess Mina made me think of a rapist at times. The guy just didn't seem to respect the "no." For a guy who seemed so honorable, I didn't get that aspect of him.
Other characters I quite liked were Yasmeen (a side character from Here there be Monsters) and Scotsdale. According to Ms. Brook's website, Yasmeen's story is next along with the mysterious Archimedes Fox. Exciting! Can't wait to read their stories.
One group who played a huge indirect role in all this was the Horde. I still feel like I'm in the dark about these folks. I understood what they did, but I didn't understand why. Also, what was so different about them physically? I think at one time they might have been mentioned as Mongols?
As for the plot, it was well paced–quite a twisted web. I'd call this one a mystery, which really isn't my preferred genre. I imagine that's why it took me more time than usual to get through this work. Cause when I add things up, we've got great writing and interesting characters, I should have loved, Loved, LOVED it. But then we add the genre mystery. 🙂 Oh well. Since I'm not so familiar with the genre, I can only guess it'd make a hit with mystery lovers.
Ms. Brook went a bit heavier with the steampunk this round, and I loved it! The gadgets added a great touch. She didn't go into extreme details about the way the goodies worked, which was excellent for my non-mechanical little mind. Plus I got a better understanding of the nanoagents. I'm quite excited to read about the future of the little buggers.
I can see myself becoming a huge fan of Meljean Brook. However, it depends heavily on if her works have strong mystery elements, cause really she is a kickass writer. My preferences just don't lean toward mystery. 🙂
The Iron Duke by Meljean Brooks is Available at Barnes & Nobles || Amazon
|| The Book Depository|| Kobo || iTunes