Before I get into the review, thought I'd mention I'm hanging with Angel Haze today as part of her International Blog Hop and Giveaway. Lots of prizes up for graps. So, stop by, say hi, see Berani through Eric's eyes. 🙂
The Promise of an Angel by Ruth Rieid was one of the goodies I snagged from Netgalley. Oh how I love Netgalley. I've never read an Amish story before. Really, I couldn't figure what all the hype was about. The element of the supernatural caught my eye with this one. Angels… hmm. After reading Unearthly, which I truly enjoyed, I figured I'd give this one a try. Amish or not… I looked forward to the paranormal. So. The blurb from Goodreads.
In Mescota County, Michigan, an angelic visitor's words inspire Judith to a future she never imagined.
After a barn raising accident, Judith Fischer's convinced she's met an angel. However, her attempts to convince others end up frustrating her Old-Order Amish community. Only Andrew Lapp believes her, but the rest, including Levi Plank, the man's she's waited to marry, demand she forget the nonsense. Meanwhile, her younger sister Martha has taken a fancy to Levi and sees her sister's controversy as a perfect distraction for turning Levi's head.
In a dream, the angel tells Judith she must choose her path. As her faith continues to grow, so do her feelings for Andrew. Will she continue to place her hope in the angel's message, even if it means losing all she knows and loves?
With my paranormal kick, I haven't spent much time reading Christian fiction these days… well, at least not before I got my hands on The Promise of an Angel. Now, I can't help but look forward to my next Christian read (Amish preferably). This work had less of a paranormal aspect to it and more of a spiritual intervention flavor.
This was a feel good book. I couldn't help but imagine living in a world as simplistic as the Amish community, an environment where the rat race is a thing of the past. I'm not saying the life presented in the book was perfect. It just seemed so… free.
Judith was the main protagonist in this story. I was a bit apprehensive about her in the beginning. She seemed a bit complacent and willfully blind to the happenings around her. I was afraid she'd be too stupid for me to care about. Let's just say I was wrong. Though she tried to temper her anger, my gal still had quite a bit of spice in her. In fact, it turned into a balancing act at times: Judith trying to be mild-mannered and loving versus trying to stand up for what was right without offending her Amish community.
Andrew played the secondary protagonist. Okay, flowers aren't considered manly… but truly, Andrew was like a blossom opening. In terms of character growth, his journey was the longest. He was a beautiful person. Faithful, loving, generous. A good man. I only wanted the best for him.
Then we have the antagonists, Levi and Martha. Though The Promise of an Angel was excellent (4.5-5.0 stars out of 5), I have to say the antagonists were the weakest aspect of the book. For the most part, they were rather 2 dimensional. I think if the antagonist hadn't been so selfish and mean without an apparent reason, this would have landed a solid 5/5. Still, Ruth Reid brought the entire work together in the end and created a satisfying conclusion to the story. Well done!
I read The Promise of an Angel in a 24 hour period and finished it refreshed and uplifted. I recommend this work to anyone who just needs a break from the stresses of life.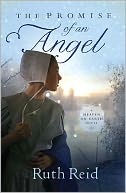 The Promise of an Angel by Ruth Reid is Available at: