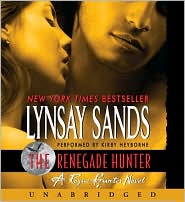 Lately, I've not been so much in the mood to read. Then Monday came around featuring my last scheduled review, and I started to panic. Honestly, I've started four or five books in the last two weeks. None of them have seemed to keep my interest. Finally I turned to an old favorite I've been putting off for months. Lynsay Sands. I'm not sure how many Argeneau books she's released, but I know it's been quite a few. The last book I read in this series was "The Immortal Hunter." You all probably know how it goes. After reading so many of one series, it rather gets old. Well, that was me for the Argeneaus. I hadn't picked up a Lynsay Sands book since.
Well this reading rut thing got to me. I had to do something. Desperate for something which would keep my interest, I pulled out "The Renegade Hunter." Welcome back into my life, Ms. Sands. Before I go any further, the teaser from Ms. Sand's website:
The Argeneau family has a secret…one of their own is a rogue vampire!
Nicholas Argeneau was once a successful hunter who went after rogue vampires who break the immortal law. Except no one has mentioned his name in the last fifty years, not since he turned into a rogue himself. But once a hunter, always a hunter. When Nicholas sees a bloodthirsty sucker terrifying a woman, it's second nature for him to come to her rescue. He had no idea he would also want to kiss her senseless…
One minute Josephine Willan is taking in a breath of fresh air, and the next sharp fangs are heading straight for her neck! Luckily a gorgeous stranger saves her life . . . and gets locked up for his troubles. Can a man who kisses so lovingly and passionately really have committed the crime he's accused of? Jo isn't so sure…and she's determined to prove that this renegade hunter is worth fighting for.
This was an okay read. Well, a little better than just okay. Or maybe it was just eh. <shrug> I can say it got me back in the reading mood. It started well enough I was a bit bummed I'd taken so long to get to it. 🙂
I would love to say something significant stood out in this story (good or bad), but really I found it not really spectacular one way or the other. Really a middle of the line type deal. It was typical of an Argeneau story with pretty much the same themes in the prior books. Nothing risky, nothing fresh. Tried and true is what I'd call it. But I'm guessing after how many novels? the storyline is bound to get played out.
Anyway, I saw someone do this once on another blog for a spoiler and liked it. So from this *** to
There was one thing about the story which stumped me. How did Charlie recover so quickly? I thought he'd ingested nanos, but there was no mention of it later. And he didn't experience any of the trauma which went along with a turning. Yet he took a bite out of Ernie. What gives?

***, you'll have to cursor over the text to see what I have to say.
Moving on. I thought the novel was well paced except toward the end. For me the last 50 pages or so were a bit slow, but I understand Ms. Sands needed to wrap up all the loose ends. At least most of them, that was.
So, a few of my favorite lines:
Worst way to break the news/apology: Right…well…I'm sorry. I bit you. I'm a vampire. [I don't believe you!]
Lamest Confession: I guess I bit and killed a mortal. [Way to exude confidence!]
Least sympathetic: Dear God, if you're going to get all weepy and maudlin on me, I'm going to put you to sleep. I'm not listening to this crap the entire way. [Thanks for understanding.]
Most Direct: I convinced him calling ahead was totally unnecessary and would merely piss me off. [Glad we got that out of the way.]
I'd recommend The Renegade Hunter for anyone who really enjoys the Argeneau series and is looking for something consistent. As I said, it wasn't a bad read, just not very fresh.
Available at Barnes & Nobles || Amazon
|| The Book Depository || Kobo || iTunes
I purchased my copy of The Renegade Hunter from the Book Depository!