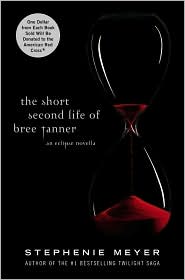 I've resisted the Twilight series. As I've told others, the movies sucked balls. And even though books are usually better than the movies, I had a hard time believing the novels could be much better. So here's the thing. Stephenie Meyer offered The Short Second Life of Bree Tanner for free until 7/5/2010. I decided to take advantage of it and see if the writing was really as bad as people say (Stephen King, I mean you). So the low down and dirty from the Bree Tanner website:
There are Two Sides to Every Story
Fans of The Twilight Saga will be enthralled by this riveting story of Bree Tanner, a character first introduced in Eclipse , and the newborn vampire world she inhabits.  In another irresistible combination of danger, mystery, and romance, Stephenie Meyer tells the devastating story of Bree and the newborn army as they prepare to close in on Bella Swan and the Cullens, following their encounter to its unforgettable conclusion.
I was pleasantly surprised. The book started strong. Though the gal was inhumane in many ways, I did sort of like Bree. I felt a little sorry for her being dropped into the world of vampires and forced to survive the best she could. Though I couldn't understand the need to kill, and I question why this hadn't occurred to her. There were other inconsistencies in her behavior that baffled me also, particularly the last few pages. It was like she was able to put her physical reactions to the situation on hold when before she was out of control.
Ms. Meyer introduced several characters whom I would have liked to know more about.
Diego — seemed to play such an important role in Bree's life, but we learned virtually nothing about him.
Freaky Fred — by far was the most interesting character, but again, who was that guy? I definitely want to know how things worked out for him.
Riley and Victoria — Exactly what happened to them? Yeah, I got clues and know their outcome, but I want details. Perhaps that's revealed in Eclipse.
As I mentioned, I've not read any of the other Twilight novels, though I've seen the first two movies. Still this novel seemed fairly stand alone. Not once was I lost. In fact, if I'd not seen the movies, I'd still be able to follow along easily. So if you're afraid to read this novel because you think you'll get lost, don't be. I don't even think this novel ruins it for readers who haven't read the rest of the series. In a way, I think it just fills in a gap (the other perspective from the enemy stand point).
As far as the writing goes–not bad. I'm not sure really why so many people complain about it. It's not the best, and certainly not the worst. One thing though. Decent start, saggy middle, and an ending which dragged. I know that sounds bad when considering half the book crawled. Still, the beginning had a decent enough hook to keep me interested in finding the outcome.
At the conclusion of the book, the question came to mind: Why Bree Tanner? In the big picture her POV seemed so insignificant. Yes, she was misled and ill-prepared, but other than being the last, she did not stand out as particularly unique. It was like having an entire book through the dreaded secondary character's POV. Only thing, she had nothing really significant to offer.
Stephenie Meyer, thank you for offering this novel for free. Reading it has taken away my fear of wasting time on the Twilight saga. I'm now confident the series has potential. Will I run out and buy the first in the series today? No. However, I certainly won't avoid it if a reasonable opportunity arises for the right price.
I do have one suggestion. Could you consider adding chapters? I'm not sure you noticed, but this novel was one long series of events with no breaks. No biggie…just askin'.
Available at Barnes & Nobles || Amazon
|| The Book Depository || Kobo
***************************************
Only a couple of days left to Enter