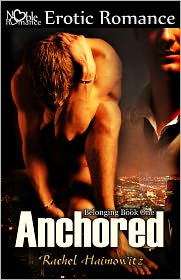 I think Anchored by Rachel Haimowitz makes my third M/M piece of work. I realized early with my experience with M/M writings that contemporary romance style plots don't do it for me (this goes for the traditional M/F romances also). The novelty of a M/M situation doesn't make the storyline unique enough to grab my attention. So when Ms. Haimowitz offered Anchored to me, I was quite a bit apprehensive. Try a few chapters of Counterpoint, she said. If you like it, you can come back for Anchored. Well, I tried a few chapters of Counterpoint. One thing for sure, it was outside my normal reads and had me intrigued. Had me asking, Uh… Ms. Haimowitz. Is that offer for Anchored still open? 🙂 Before we get down and dirty with the review, the blurb from Ms. Haimowitz's Website.
Network news anchor Daniel Halstrom is at the top of his field, but being at the bottom of the social ladder—being a slave—makes that hard to enjoy. Especially when NewWorld Media, the company who's owned him since childhood, decides to lease him on evenings and weekends to boost their flagging profits.

Daniel's not stupid; he knows there's only one reason a man would pay so much for what little free time he has, and it's got nothing to do with his knowledge of current events. But he's never been made to serve like that before, and he fears he won't survive the experience with his sanity intact.
He finds himself in the home of Carl Whitman, a talk show host whose words fail him time and again when it comes to ordering Daniel to bed. Daniel knows what Carl wants, but it seems as if Carl isn't willing to take it, and Daniel's not willing to give it freely. His recalcitrance costs him dearly, but with patience and some hard-won understanding, love just might flourish where once there'd been only fear and pain. Can Carl become the anchor in Daniel's turbulent life, or will he end up the weight that sinks his slave for good?
Warning: This book contains an on-screen rape.
First thing I found was Anchored is set in an alternative time-line where slavery is prominent in the present world. Hmm… that was different and enough to keep me reading. Okay, so this was a fictional piece of work. However, reading about slavery in history books in the classroom truly doesn't do justice to what it means to be a slave. Ms. Haimowitz did an excellent job of showing the classes, privileges, and rights (or lack thereof) between the slave and free class. Myself, as an American living with quite a few privileges, it's easy to take for granted the many haves while getting pissy when I have nots. For instance, I've been known to spout off like I've lost my mind when I know there's no major consequence lurking around the corner. Let a slave from Anchored try that.
So characters: Daniel (MC) was a true slave and played the role. He had a few moments when he pushed boundaries, but for the most part was easy to reel back in. At times, it was truly sad. I felt for the guy. Daniel wasn't a protagonist who exuded strength. He was broken in a way which lent itself to a sympathetic audience. His life wasn't perfect, but he dealt. It even got me a little misty-eyed a few times. The realism was something I understood.
Carl, Daniel's co-star, was patient but still a master true and true to the end. He reminded me of bible teachings where slaves were released in the seventh year. But if the slave had a good master, he/she might not want release, so sold himself back into slavery to avoid the stress which came with being free. Carl was that kind of master. He wasn't perfect, but he cared enough that his slaves knew it could be worse elsewhere. By the way, if you stop by after 7 am EST today, Carl agreed to do an interview with me, and Ms. Haimowitz will be checking throughout the day. 🙂 So don't miss out.
Now the villain, Mr. Foster… he was a mean one. I love villains I can hate with a passion. I can't help but want to learn more about him. How did he get to be so wicked? Mr. Foster had very small parts, but those parts played a significant role in the overall interactions between Daniel and the other characters. Gosh, I'd love to read a story about him with him as a main character or co-star.
Plot wise: When I started this, I was expecting a bit of M on M romance. I got something entirely different. A powerful yank kind of different, but different good. I think it's why I liked it so much. Personally, I found very little of this book erotic until the very end—not much guy on guy action. I was fine with that since I haven't decided if M/M sex in books are for me yet. Still I found myself wiping the fog from my glasses at once time. One thing Anchored did have was a lot of emotional drama. That worked for me, because I'm all about my protagonists going through the fire. I often return to a comment Nalini Singh made on her blog about thinking about the worse you can do to your hero/heroine, then do it. Ms. Haimowitz certainly did that.
Overall, this was a great read. So good in fact, it almost made my 2010 favorites. What held it back? This was my first Happy For Now ending. And I've come to find out that I'm not too fond of those. I don't have to have a Happily Ever After, but I definitely like closure. Now I'm not saying Anchored had a cliffhanger. It didn't. This was a COMPLETE story. It just left me wondering, What will happen to Daniel and Carl now? So, if I were one to rate this, I'd say it's a 5 star read which just barely missed the 2010 Favorites list.
Favorite Lines:
"My god, you're like one of those shivery little wet dogs ridiculous women carry in their purses."
The prod went off again and he thought, God, what I wouldn't give to be someone else right now. Anyone else. Anyone at all.
What the fuck does that mean? Guys like him? He was a slave, just like the doorman. Just a damn slave.
Now this read isn't for everyone. And it comes with a rough label. 🙂 Still, I highly recommend this to folks who enjoy works by Kitty Thomas but like the M/M flavor.
So… want to keep on top of the Anchored Release Party? Here's what's happening.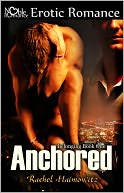 Find Anchored at: Barnes & Nobles || Amazon
|| The Book Depository || Kobo