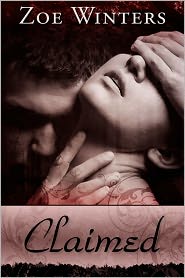 I'm a day late, a dollar short with this post. I don't know what a dollar short means, but it sounded good…kinda. 🙂 If you read my post on Kept (Blood Lust #1), you know I got into this series because of Zoe Who? I'm sure I sound like a broken record when I say I love that cartoon gal. 🙂 Well, now it's time for the next story in line, Claimed. I picked up the digital copy during Ms. Winters blog tour. Then through a fluke comment on Mama Kitty's Reviews, I inadvertently entered myself in a giveaway and won a personalized signed copy of Blood Lust. 🙂 Do I feel a wee bit guilty for having two copies…a little. But when it came to signed print versus digital, I have to admit: Greed won out. So, the blurb from Ms. Winter's Website:
For a vampire, Anthony isn't a picky eater, but he's drawn to Charlee's blood more than any other. Like a fine wine saved for a special occasion, he's denied himself this pleasure. But one night, high from the potent magical blood of another, he claims his prize and loses control. Ashamed of almost killing the one woman who means anything to him, he wipes her memory of the event. When Charlee awakens with complete amnesia, Anthony is the only one who can clean up the mess he's made.
Anyone out there ever play Dungeons & Dragons? Don't be shy. I know some of you all were as nerdy as me growing up. I bet some of you still play the game. 🙂 What does that have to do with Claimed? Anthony. I'd definitely classify him as lawful evil. Add that to his rash behavior, and Claimed ended up with some funky situations. 🙂 I have to say, I rather liked him. Once in a while I think of something he did/said and crack up laughing. I try not to think about him in public places, cause I'm not quite ready to go to the loony bin.
Hmm…Charlee. I wasn't so fond of the amnesic Charlee. She was a bit of a flake. She also spent a lot of time being pawned by vampires throughout the story. This is just a preference, but I rather like strong, decisive heroines. Even so, she had some great lines, such as: "Then you show up, all dark and brooding with your coat flapping out behind you like a comic book villain, and you're upset I'm not acting like me?" Of course it makes me think of Anthony again, and I start laughing. But it's okay, cause I'm at home in the privacy of my bedroom.
On to the spoiler free plot. In many ways this book is a standalone. However, I believe some may be confused with a few of the references on the first few pages if they haven't read Kept. Get past that, and you're good to go. I didn't bother reading the blurb for Claimed, so it was quite a twist for me that Charlee lost her memory, and how she lost it even more so. I loved it! 🙂 Everyone's freaking out around her and acting weird, and she's in lala land. Meanwhile, Anthony has his own agenda. And if he doesn't achieve his goal, there's a good chance all us mere humans might get pawned.
Well, Anthony and Charlee's story is over, but really I want to hear more about them. I sure hope the aftermath of their lives show up in Mated and the soon to be released novel Save My Soul, even if it is hearsay.
So, some favorite lines:
"Well, you better figure it out, buddy, or I promise I will find a way to unmake you." ~ Greta
When you'd lived as long as Anthony had, you stopped listening to dire warnings of doom.
"I'm a guy. I live alone. I know what I look like." ~ Anthony's response to a lack of mirrors.
My little slip of a teaser for the next book Mated: Jane was a world of amusement in Claimed. Once again, I skipped the blurb, but I've started it. I'm looking forward to seeing some of her survivor attitude. Off I go to read it. 🙂
By the way, I weaseled Ms. Winters into doing an interview here. So stop by on Friday and see what she has to say. 🙂
Claimed is available at Barnes & Nobles || Amazon
 || Kobo || iTunes || Smashwords
Or get the complete collection (Blood Lust) at Barnes & Nobles || Amazon
 || The Book Depository || Kobo || iTunes || Smashwords