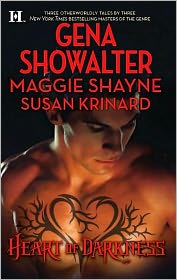 Darkest Angel is actual part of an anthology called Heart of Darkness featuring stories by Gena Showalter, Maggie Shayne, and Susan Krinard. I didn't read the other novellas, but I might get around to it when I have time. I purchased the book because of Gena Showalter, since I'm in love with the Lords of the Underworld series. That's not to say the other writers aren't great. I'm just not familiar with their work. So, that being the case, on with the review. 🙂
So we have from the back cover: An iron-willed demon assassin, the angel Lysander has never known lust—until he meets Bianka. Spawned from the bloodline of Lucifer, the beautiful but deadly Harpy is determined to lead the pure-hearted Lysander into temptation….
I have to say, I absolutely loved this little book. I only wished it didn't wrapped up so quickly in the end. Gena Showalter portrays Lysander as a naive angel with a very simple perspective of right and wrong. He seems absolutely clueless about the magnitude of the consequences associated with his actions. As such, watching him stumble through shades of gray amused me to no end. Experienced, worldly—Bianka only heightened my amusement. She found as much pleasure tormenting the innocent Lysander as I found watching her do it. It was quite refreshing to have the woman in charge and teaching the man for a change.
I love cameo appearances, and Gena Showalter had plenty packed in this novella. Two particular characters caught my attention. First Aeron had a small, but significant role in this novel hinting at his romance to come. It makes me wonder if his book is next. Then there was Paris. One of those things that make me go hmmm… My gloomy Gus friend was not the same bummed out guy I'd come to expect. One special mention given was a reminder of Ashyln's pregnancy. I hope Ashyln has her baby in the next novel.
All in all, this read was awesome! I am so looking forward to the next installment of Lords of the Underworld series.
Available at Barnes & Nobles || Amazon
 || The Book Depository || Kobo || iTunes