A few weeks ago, Lindsay Buroker shared an excerpt of her novella, Flash Gold (read it here). I loved it and picked it up immediately. And that's all I have to say about that. The blurb from Goodreads:
Eighteen-year-old Kali McAlister enters her steam-powered "dogless sled" in a race, intending to win the thousand-dollar prize and escape remote Moose Hollow forever. The problem? Fortune seekers and airship pirates are after her for the secret to flash gold, her late father's alchemical masterpiece.
With her modified rifle and a pocketful of home-made smoke bombs, Kali wouldn't normally hide from a confrontation, but taking on a whole airship single-handedly is a daunting task. Unfortunately, the other racers won't assist her–they're too busy scheming ways to sabotage her unorthodox sled.
When a sword-slinging stranger shows up, wanting to hire on as her protector, she's sure he has ulterior motives, but he's the only one interested in helping her. The question is…why?
I know this book was about Kali, but I dug into Flash Gold and found myself quiet attracted to Cedar. He was decisive and didn't shirk away from duty. I can't say I trusted the big guy though. The entire time, I kept wondering what his deal was. Exactly why was he there? His role added a bit of mystery to the story.
Then there was Kali, the heroine of the story. A very important person, I might add. 🙂 Ms. Buroker often twitters about geekiness… well, Kali was the one. Geek was her middle name. Now being a geek wasn't cool when I was growing up, but the thing about Kali, she made science fun. I loved her self-sufficient attitude while still willing to accept help when needed.
Cedar and Kali–two great characters with wonderful dynamics.
As for the storyline: Kali faced many obstacles along the way which interfered with her goal to win the Yukon race. Her entire future rested on her ability to take home the prize money. Overall, I found the story well-written with the trials in all the right places to keep me interested.
Thinking back, I only have two gripes. 1) I never really felt the urgency of the race. It might be because I'm unfamiliar with Alaskan sled races, but it seemed the participants maintained an even pace amongst one another. I would have liked to see someone break away from the mass with Kali working hard to keep up or gain the lead. 2) The ending was wrapped in a nice little package. I think those who seek happily ever afters might truly enjoy the ending though. 🙂 After all, Flash Gold does have a bit of a romantic flare to it. Here's the thing about the ending–if Ms, Buroker ever writes a sequel, I think I'd enjoy the wrap-up of Flash Gold more. It has a bit of "the end of the beginning" kind of feel to it and left me wanting a bit more. I can see the headlines now: The Adventures of Kali and Cedar.
I recommend Flash Gold to folks looking to get in touch with their geeky side.
BONUS: Are you enjoying works by Lindsay Buroker? Well you're in luck. She posted an article today about how to help your favorite authors. Head over, check it out now, and show your support! 🙂 How to Help Your Favorite Authors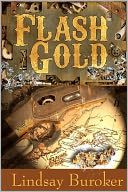 Get your copy of Flash Gold by Lindsay Buroker at: