Not so long ago, my blogger buddy Karen at For What It's Worth mentioned her latest read, Rage by Jackie Kessler, being a pretty decent work. And since I'm always looking for a good read, I had to check it out. Thing was, Rage was book two and Hunger book one. Karen came to the rescue and offered her copy of Hunger to me. 🙂 The next couple days after it arrived, my daughter and I fought for the right who could read this little goodie. Being the mom and all, of course I won. 🙂 haha My daughter still had her opportunities, spiriting it away whenever I set Hunger down. Enough rambling! How about the blurb from Goodreads:
"Thou art the Black Rider. Go thee out unto the world."
Lisabeth Lewis has a black steed, a set of scales, and a new job: she's been appointed Famine. How will an anorexic seventeen-year-old girl from the suburbs fare as one of the Four Horsemen of the Apocalypse?
Traveling the world on her steed gives Lisa freedom from her troubles at home: her constant battle with hunger, and her struggle to hide it from the people who care about her. But being Famine forces her to go places where hunger is a painful part of everyday life, and to face the horrifying effects of her phenomenal power. Can Lisa find a way to harness that power — and the courage to battle her own inner demons?
This book started off pretty strong. I've never really given much thought to the inner thoughts of individuals with eating disorders. Hunger brought a new awareness to me and in many ways touched home. Despite being surrounded by individuals who loved her, she still felt unworthy because of her appearance. I've stood in the mirror many times prodding my growing, squishy belly, wondering if my husband still finds me attractive… loves me as much as when we first met. High scores for the beginning.
Not sure how spoiler like the rest of this review is, so I'll give you the warning now.
Toward the middle of the book, Lisa stepped into her horseman role–Famine.  I think this aspect of the book missed the mark. When I think of famine, a shortage of food in an area comes to mind. In Hunger, the meaning of famine was blurred to resemble greed more than anything as she turned her anger toward individuals who ate freely or in excess–punishing them because they didn't have the hangups about food like she did.
I'm really into paranormal, but the further I progressed into the book, the less realistic it became. The mystical aspects reached a point where I stopped believing a supernatural world like the one described existing.
Then I reached the ending–a chance to bring it full circle to Lisa's issues of anorexia–and the author blew it. This work was a novella, but it really needed a bit more on the back end to have nailed it. For an issue as deep as anorexia, I really would have liked it to be worked out on paper rather than brushed under the rug with the idea she got the help she needed.
Recommendation: Despite the ending being substandard, I'd still recommend this work to anyone who has looked in the mirror and wished the reflection hosted an image other than what's there.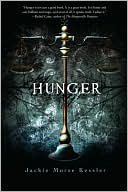 Find Hunger by Jackie Kessler at: