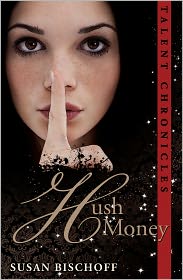 I purchased Hush Money by Susan Bischoff over a month ago, and shame on me, I put off reading it. You see, I was kind of scared I wouldn't like it. In fact, I figured if it wasn't good, I'd just not finish it and not have to worry about a review. Anyway, I ramble. Before I get into what I really thought, the blurb from Ms. Bischoff's website:
Be normal, invisible. Don't get close to anyone. Kids with psychic abilities tend to mysteriously disappear when they get noticed. Joss has spent years trying to hide. Now she has an unasked-for best friend, who is the victim of an extortion plot by the school bully, who used to like Joss, who is best friends with her long-time crush, who is actually talking to her. Life just got more complicated.
Okay. Back to me. 🙂
Page one, this book transported me back to grade school and kept me there. Ms. Bischoff captured the details exactly–the insecurities, the joys, the trials. Talk about reminiscing. 🙂
After a few pages, I didn't want to put this book down. Only sanity telling me I should sleep at some point before the kids started to wake in 2 hours got me in the bed. Then I forced myself to knock out my daily word count goals before picking it up again. This was the type of book that made me want to write… not just write but come up with a kick ass storyline. Cause Hush Money definitely had one.
I'm going to let you all in on a little secret. I absolutely hate knowing there's information to be had, but for some reason the author chooses to withhold it. Thank you, Ms. Bischoff for not doing that to me. All the information was right there when I needed it. No teasing lines like, "I'll tell you later"or "we don't have time to talk right now." No. When the hero/heroine found out information, I got it too. I loved it. Why do I mention this? Because there was one particular chapter which ending on a cliff hanger. I was sure Ms. Bischoff was going to pull one of those stunts where I'd have to wait 12 chapters before the reveal. But no! I flipped… okay… not really flipped because it's an eBook, but I hit the next page and everything was unraveled in the next few paragraphs. I didn't even have time to get irritated. 🙂 My gosh, you're good!
So what about the characters? Joss, I loved. She reminded me so much of my oldest daughter. Invisible, but not quite. Because really, being the unnoticed one in high school is enough to make you stand out. 🙂 Odd how that works. That was Joss. That's my daughter. But there was more to her Joss–hidden, scared, alone… flawed. At one point I remember thinking it was so sad to watch bad things to happen to others and let people do bad things to you because you're afraid. She had so much room for personal growth. I loved watching her blossom.
Dylan, well it took me a while to warm up to him. He spent a lot of time rehashing/examining prior events. Yes, I felt for the predicament he was in, but not really for him. Once he really got into the action and made choices, I really got into the boy. He became a real hero rather than just a secondary character with a few scenes in his POV.
Even the villains were great. I don't know their whole story, but Ms. Bischoff wrote them in a way that had me wondering what got these folks to this point. Sure they were wicked and troublesome (yeah, understatement there), but they had a three dimensional kind of feel to them. Take Marco, for  instance. He was villain enough to be a major problem. A real bully as Kat called him. Yet he was also purposeful in his actions.
The only thing I found lacking was the matter of character physical descriptions. Other than who was taller than whom and Kat being black (I think), I didn't know too much about what they all looked like. For instance, I gave Marco a buff build. But he was a teenager, and I doubt he'd have the time to bulk up to be the incredible hulk. 🙂 I also started off all the guys as tall. But then I remembered, the average height for a female is about 5'4″, so most guys would be taller than the girls even if they'd only hit 5'8″.
So plot. There were times in the book, I thought there was no way this work could stay this good. No way she could keep the momentum going. Somewhere it's going to crash and burn. I didn't want it to happen, but it was inevitable. And then I hit the end, still running at full speed.
With Hush Money, I never knew what would happen next, so I just kept turning the pages. Pretty much each scene ended on an 'OMG! I can't believe that just happened' moment. Then we get to the place where a lot of books have what folks call "the saggy middle." In the case of Hush Money, this was where all hell broke loose. I didn't even have time for a breather. This book was super fast pace and so intense, it left me exhausted. The only thing I hated about the plot was not being able to read it fast enough.
I really wished someone would make a movie out of this one. Cause really, this book defied The Laws of the Universe. 🙂 Yeah, I stole that line.
So, a few of my favorite lines:
"Marco, honey, I'm gonna have to wreck your fantasy and tell you that not only are Joss and I not involved with each other, and not only are we both straight–which you'd think any straight guy would realize–but I would do her and half the guys at this table before I would even let you watch me change my shoes."
I would have loved to choked him with one of his ridiculous Looney Tunes neckties just then.
But if she ever found out and felt the need to throw herself at me, I figured I'd catch her. [Definitely one of those aww moments.]
One thing that's not clear to me. Do adults not have Talents?
By the way, check out my favorites 2010 reads on the right widget. That's right, this one made it. I loved this the way I loved Comfort Food (see review here) and the Hunger Games (see review here).
Available at Barnes & Nobles || Amazon
 || The Book Depository || Kobo || iTunes || Smashwords
As a side note, I'm really impressed with some of the indie works I've gotten an opportunity to read. What indie works have absolutely blown your mind away?