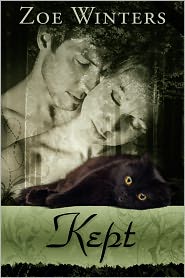 I'm not sure how I started following Zoe Winters, but I know in terms of my twitter lifetime, it's been awhile. I've talked to her a few times, but have never gotten around to reading her work. Kinda felt guilty about that, but not guilty enough to do anything about it. You know how that goes. 🙂
Anyway, I came across these videos called Zoe Who? They were quite amusing. And what do you know, they were created by Zoe Winters. I mentioned them in a post about Indie authors (see here) a week or so ago. I haven't taken many chances on Indie writers but gave her a try after the post. I found Kept (Novella 1 Blood Lust) as a free read on Ms. Winters' blog. Now before I get too caught up in my ramblings, the teaser from Ms. Winters' website:
As a cat therian (shifter), Greta's blood is already sought after to enhance spells and potions, but due to a quirk of her birth, her blood is potent enough to kill for. When her tribe plans to sacrifice her, Greta must ally herself with Dayne, the dangerous local sorcerer, and the only person strong enough to protect her.
Without beating around the bush so much, I'll admit I had a false start with this book. The beginning started a bit shaky. Only after reading a few reviews did I decide to settle down and read the entire novella. I'm certainly glad I did, because it was an enjoyable read. Before I get to the good stuff, let's just get out in the open what made me balk.
Mainly, I don't think the story started in the right place. The earlier scenes focused on the introduction of minor characters which reappeared once or twice later in the novella. Very little time was spent on these scenes, other than to give identities to names. It gave the read a jerky feel with Greta popping in and out of people's lives.
However, once we got beyond the introductions, the story really got underway. I stayed up well into the night to finish this read. If it weren't for the breaks I had to take between laughing fits, I probably would have finished sooner.
One item I enjoyed about this book was the realism in terms of romance. I've never understood how people in novels could fall head over heels with one another without knowing anything about them. I guess I just don't believe in the love at first sight. Lust at first sight? You better believe it! And this novella had it. Greta and Dayne had an immediate attraction which I could completely buy.
Sorry, Greta, but Dayne was my favorite character in this book. When he wasn't lustful (which I loved!), he was cold, calculating, and a bit of a dick. Not the greatest personality traits, but it was his honesty in being himself which attracted me to him. It was more on the lines of you get what you see. I could trust that. Besides that, he was funny as hell—an endless source of amusement.
In terms of plot, I was up and down on that issue. The main plot itself was very believable (as far as realism goes in the paranormal scene) which kept me in the book. However, a few areas were kind of glitchy and distracted me with thoughts such as "why did they do that?" Even so, my understanding was this was Ms. Winters first published book. Not a bad first attempt, I have to say.
So a few of my favorite lines:
That little shit was my bestest best friend until he found out I wasn't out saving the world every night. (bestest best friend you say? tee hee)
Greta suppressed a giggle as she tried to imagine Dayne Wickham, the hapless victim of a timeshare scheme. (Been there, done that 🙁 )
Even ten years ago, Dayne never would have made a speech like the one he'd made in the basement about locking her up. It sounded like it had come out of Evil for Dummies. (I've got to get that book.)
Other than a few plot issues which didn't quite make sense or seem reasonable, this was quite an enjoyable read. Now that my computer is functional (even though not really fixed), I think I'll get around to finishing Blood Lust.
BTW, Anyone else get a craving of Star Wars episodes after reading this book?
Kept is available at Ms. Winters' blog || Barnes & Nobles || Amazon
  Kobo || iTunes || Smashwords
Or get the complete collection (Blood Lust) at Barnes & Nobles || Amazon
 || The Book Depository || Kobo || iTunes || Smashwords