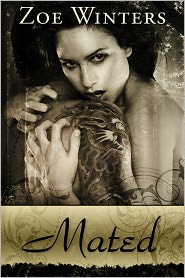 This is the final review of the Blood Lust series (review of Kept here and Claimed here). Why? Because Mated is the end of the trilogy! Of course, that doesn't mean it's the end of Zoe Winters' writing. And we're sure to see the characters again in her next book, Save My Soul. Before we get into the review, a quick teaser from Ms. Winters' website:
Because of the vampiric blood that has run through her veins since birth, Jane has been a target for vampires who resent a human being "kindred." She's forced to disguise herself as a vampire groupie to appease them and safeguard her life. When she's abruptly given to Cole, the leader of the werewolf pack, to satisfy a gambling debt, she discovers the blood running through her veins has a far greater impact on her destiny than she ever imagined.
I quickly learned Jane was not the same wild girl she was in Claimed. Yes, I knew Jane was disturbed in a broken kind of way. I expected the right incident to set her off, and she'd go out like a blazing flame taking everyone around her with her. I was wrong. So very wrong.
I'm not sure if the spark I thought I saw in Jane was more bravado or if Paul had beaten all sense of self-worth out of her by the time I got to Mated. Truly, it saddened me to see what became of Jane. But her story isn't unique. Men batter women all across the country. And for some reason or another the women feel as if they have no other choice but to accept it. That was Jane. Trapped in an abuse relationship with no place to turn. Her only way to fight back was to survive another day.
I found Cole to be very straightforward. I'm not sure if this was a werewolf trait with the species being forthcoming with their emotions and such or what. But it worked. I liked that there were no games in love. In many ways, it'd make life easier if people were so honest with their feelings.
Ms. Winters mentioned in the past her Blood Lust series were standalone. I'd say definitely yes with this book. The novella starts months? after Claimed and is so focused on Jane and Cole, there's no time for back story from the other novellas in the series. Of the three books, I'd have to say this was my favorite.
Speaking of favorites, a few lines which stood out:
She'd said no strings, and he hadn't realized that no strings really meant fuck me, then never let me go.
"I'm Cole, and I'll be your captor for the evening."
"You think just cause you're older and better looking than me that you can come in here and take my girl?"
"They are battle wounds. These are the marks that prove you're strong, that you're been through fire and walked out safe on the other side." <—This is actually my favorite of favorites. It remind me of an old boyfriend. I was self-conscious about my after-pregnancy stretch marks. He traced the grooves and said something along the lines, "I love these scars. It reminds me you're a mother and what you went through to get them." <sigh> Every time I think of his words, I feel a little pride. Nine months of pregnancy and pushing life into the world is no easy task.
Mated is available at Barnes & Nobles || Amazon
 || Kobo || iTunes || Smashwords
Or get the complete collection (Blood Lust) at Barnes & Nobles || Amazon
 || The Book Depository || Kobo || iTunes || Smashwords