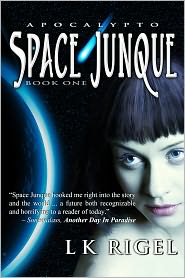 L.K. Rigel offered me a copy of her novella, Space Junque, last week. My response was… maybe <scared look>. Let me check out the sample, and I'll get back to you. Well, since I'm doing this review, it's obvious I took her up on her offer.
Me. Thinks. Space Junque. Is. A. Space Opera. 🙂 I've never read a space opera before. In fact, I didn't even know what a space opera was until I stole the term from someone else mentioning this book. Not sure I should admit my ignorance, but oh well. Now it's out. 🙂 So, I believe the full genre given to Space Junque by L.K. Rigel is paranormal space opera romance? It had all of those elements. Before I get into the review, how about a little blurb action from Ms. Rigel's website:
The DOGs want to destroy the world. The gods want to make a new one. The trick is to survive both.
Warned by her friend Mike Augustine, Char Meadowlark tries to get off planet before a pending eco-terrorist attack, but the Defenders of Gaia strike while she's at the airport. Jake Ardri, pilot of the shuttle Space Junque, rescues her and delivers her to the Imperial Space Station where Mike awaits.
When the DOGs' final onslaught goes global and the material world threatens to implode, the ancient gods reemerge to take control over humanity. Through the ensuing chaos, Char must juggle two men, orbiting eco-terrorists, and a goddess with her own agenda for a new world order.
Will there be room for love in flagrante apocalypto?
There was so much happening in a short period of time, I feel the need to break this review up in categories.
Plot: This was a wild ride. I have to be honest. I started this book not knowing what it was. I didn't even read the blurb. The cover looked all sci-fi like, so I was expecting straight sci-fi, which isn't a genre I read. However, the first few pages caught my interest with the ghosts and all. They kind of reminded me of zombies, but I never really got a full description of them or what the big hoopla was. Then the romantic elements hit, which threw me off guard. 🙂 No more judging a book by the cover. I looked up the book to find out what I was getting into. Anyway, here's what I thought Space Junque.
Sci-fi: This is only the second sci-fi romance I've read. The first was Touched by an Alien by Gina Koch (see review here). Now Space Junque was completely different. The setting was decades in the future, after the earth had experience several ecological disasters. Ms. Rigel even threw in the oil spill of 2010. Very cool. One thing I can say about Ms. Rigel is she doesn't waste words. There were a lot of unfamiliar terms in Space Junque, and I think a few could have benefited from additional explanations. Even so, all the elements were there to give the work a great sci-fi feel to it. I felt left out of the loop at times. This could be due to my lack of familiarity with the sci-fi genre though.
Space Opera: I had to look up Space Opera to find out what it meant, but I think I have a vague grasp on the genre, so don't fuss too much if I mess up. 🙂 In terms of the Space Opera aspect (government versus the DOGs), Ms. Rigel did excellent in this area for such a short span of time. I understood what the government (aka empire) wanted. Of course with all governments, there's always the threat of corruption. I do wonder what the DOGs hoped to accomplish with their destructive path. I'm thinking this will be revealed in the next novella Spiderwork. Really, I see Space Junque as an intro to a potential epic saga. Could Space Junque simply be Act One?
Romance: The romantic aspects were rather low key. Char and Jake had very little face-to-face time together, making it hard to call Space Junque a romance. However, it did meet the happy for now (HFN) requirement, kind of. Again, I'm thinking more will be revealed in Spiderwork.
Paranormal: This was another aspect which blew me away. How in the world do you mix paranormal into Sci-fi? Simple: Space Junque. Now I'm not going to go into detail with this, cause I don't want to ruin any surprises. But from looking at the cover of Spiderwork (yeah I'm still judging books by them even though I said I wouldn't 🙂 ), the paranormal aspect gets a lot of play in the next novella. In Space Junque we seem to get the intro… a lot of great leading info. I'm still trying to wrap my head around this one.
So, my summary of the plot: Basically, it seemed to be the intro of a bigger picture. This book drew me in but left me wanting more. Spiderwork is definitely one to add to my reading list, just to read the rest of this saga. My reclassification of this genre would be Space Opera/Sci-fi with romantic and strong paranormal elements.
Characters: The main star of the show was Char. For the most part, she was well-developed. I understood her motivates and even understood the rational behind her spontaneous behavior. She surprised me a few times, that's for sure, but she was definitely realistic. Well done! Her co-star was Jake. I think there was only one chapter in his POV. So calling him co-star is a stretch. Let's call him a strong supporting character, since I could have done without his POV. 🙂 I got the feeling his chapter was thrown in to offer back story the reader couldn't obtain from Char. From Char's POV, I think we only touched on his personality. It'll be interesting how he develops in the next book.
Favorite lines anyone?
"I'm not going for your precious parts."
Char had always found children obnoxious and demanding or meek and depressing. This attitude was a flaw in her character, and she always felt vaguely guilty in their presence. (OMG! This is so me.)
"DOGs don't need no stinkin' data links."
"She wants us to submit to her, which will involve lighting a lot of candles and having a lot of sex.
Overall, this was a fun, interesting, and surprising read. I would have liked a bit more world building, but I'm hoping to see more explanations in the next novella. I hesitate to call this a standalone novella. There was so much left up in the air, I think it'll drive folks to Spiderwork in order to find out what's next. Lucky for you (and me), Spiderwork is already available to the public.
Available at Barnes & Nobles || Amazon
|| Kobo || iTunes
What was your most surprising read of 2010/2011?
Head over to L.K. Rigel's guest post on editing for your chance to win Spiderwork.