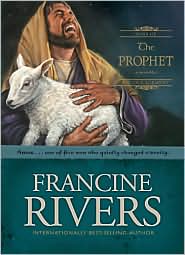 It took me a lot longer than I wanted to read "The Prophet" by Francine Rivers. I continued to stick "The Prophet" at the end of my to-do list each day and often didn't get around to even picking the book up. Well, I finally did it. I read it, and I can return it to the library. This novella is book four in the Sons of Encouragement series. If you recall, I reviewed "The Warrior" last week (see review here). First up, the blurb from Ms. Rivers' website:
A man of conviction who heard when God called; a prophet who refused to turn away. The Prophet illuminates the life of Amos and his relationship to Israel during its prosperous years. Amos's message–and his relationship with God–made him unpopular. But his challenge to those who were enjoying the blessings of prosperity was crucial then and is strikingly timely today as well.
Okay. I'll start by saying, I liked it better than "The Warrior." Unlike Caleb, I saw Amos experience character growth. He went from a bitter and bloodthirsty man to a humble servant with the well-being of others on his mind. I liked that. Even so, I had one issue. All his growth happened at the beginning of the novella, leaving no room for improvement throughout the rest.
Amos was relentless in his prophesying. Over and over the novella reiterated the same message. The people complained; I complained. The thing is this. The bible preaches the same message again and again. It works. As redundant as the bible is, I enjoy reading it. And let's be honest here. Even without the spiritual relevance, the bible has historical merit even non-Christians might enjoy. Like I said, the repetition works for the bible, but for a fictional work, the style just doesn't jive.
Now I ragged about the writing a little, how about a bit of praise? 🙂 Ms. Rivers did a wonderful job setting up Amos. The parallelism between Amos and the Good Shepard played throughout the novella was fantastic. Amos loved his flock but sometimes had to make the tough choices for the sake of the whole. It saddened him, but he did what had to be done. Like pruning. I've wondered at times why God does what He does. Ms. Rivers simplified the rationale.
Was there a spiritual message to The Prophet? Yes. Circumcise your heart. Turn to God. And don't think because everything is dandy in your life, God approves of your actions. I loved that. Look inward and recognize what's truly in your hearts and don't be so quick to condemn others. One line truly stood out for me in this work. "What is it in us that rejoices at the judgment upon others, while pleading that ours be overlooked?" Now, isn't the truth of it?
So, I'll leave you with a couple more of my favorite quotes from the novella
"My sheep." Tears ran down his cheeks. "No one loves them as I do."
"I see those who prey on the poor, your rich women who eat like cows."
Available at Barnes & Nobles || Amazon
|| The Book Depository