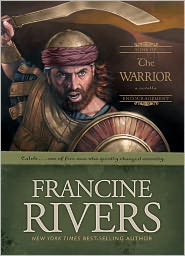 In the past, I've been a huge fan of Francine Rivers. My favorite of her series is The Mark of the Lion. Fabulous! After finding a couple of her books from the Sons of Encouragement at the library, I decided to give this series a try. First up is "The Warrior" which is book two. Did I mention each one of these novellas are stand alone? So the blurb from Ms. Rivers' website.
His words stirred mens' hearts; his passion drove him to God. The Warrior illuminates the life of Caleb, a man whose faith and zeal for God helped lead God's people into the Promised Land. Discover a man full of passion, humility, and faith; a man who encouraged Joshua and stood strong in the face of sin.
I'm not sure if it's because I have a little writing under my belt or what, but I didn't enjoy this one as much as my other Francine River reads. The novella had a lot of information chunks thrown at me. This is alright for the bible, but not okay for a fictional story, even if it is based upon the bible. At least in my mind.
I also wasn't very fond of Caleb. He had an air of superiority. No one could satisfy him, while he acted as if he was above it all. He just seemed a little to perfect in his mind for my liking. What happened to struggling with right and wrong? For Caleb, the struggle seemed to be lacking. His biggest concern was trying to sway everyone to his way of thinking. Honestly, with Caleb so sure of himself and his way of thought, the overall story lacked conflict. I had nothing to look forward to.
Although Caleb was above many of the struggles, the other characters were not. Even though I knew the story, it still broke my heart to see the children of Israel learn and accept after the consequences were in place. For example, one of Caleb's brothers said, "I thought, perhaps, the Lord had forgotten about me, and I might sneak into the  Promised Land among my sons and grandsons…" Even thinking about it now brings tears to my eyes.
Other lines made me reflect on life in general. For example: "And like this morning, they prayed the same prayers they prayed every day, and then went off to live life on their own terms." I don't know how many Christian readers visit my blog, but isn't that so true sometimes. It's like the Natalie and Phillip Larue song where they sing, it's not right to be a Christian "One Day of the Week."
So in my opinion, the overall message was wonderful, but the presentation was lacking.
Before I leave you with this review, I'll share a couple more favorites I had from the novel.
Brave men do what the Lord commands despite their fear.
Don't think my arm isn't long enough to deal with you.
We felt like grasshoppers next to them, and that's what we looked like to them!
Tomorrow I hope to get out my review of "The Prophet" which is also by Francine Rivers. So, stay tuned!
Available at Barnes & Nobles || Amazon
|| The Book Depository
"The Warrior" by Francine Rivers is available at the Book Depository.