Edit
UPDATES AT BOTTOM OF POST!!!!
I've been 26 for so many years, I've lost count. June 30 is my birthday and guess what? I'll be 26 again! Happy birthday me! Best of all, I'm giving birthday presents to you!
This is what we're doing to celebrate my umpteeth 26th birthday. I'm big into present wish lists. As shameful as it is, I let my family know what presents I want. No  disappointing birthdays for me! No way. I decided to let you take part in my tradition. 🙂 I had a couple of giveaways and asked participants which books they'd like to see in my next. As you wish! Winner(s) will have their choice of book(s) from the participants' wish lists.  These were the requests:
I've also added Tsunami Blue. I've entered a couple of contest to win this book and haven't prevailed. I want it! Here's your chance to win it also. 🙂
So here's how it works. We'll start with one (1) winner who may choose a book from the selection. For every ten (10) followers, I'll add another book (randomly selected from comments). As it is, 4 more followers and another book gets added to the list! Woohoo! For every twenty-five (25) followers, I'll add another winner.
To enter, I only need a few things from you. If you win, I'll be in contact with you for delivery details.
Comment on this post telling me which book you'd like to see added to this giveaway.
Become one of my Google Friend Connect Followers.
Fill out the form.
Extra entries
Follow me on twitter +3 (leave @twittername)
Tweet this post +2 (leave link)
Join my Facebook Fan Page +2
Someone referred you +1 (leave their @twittername)/referrer +2
Blogged about it +5 (leave link)
Posted in Sidebar +2 (leave link)
This contest is international as long as your country is on the book depository free shipping list.
Here's to getting what you want on my birthday, cause I know I will. Giveaway ends June 30, 2010 at 11:59 pm.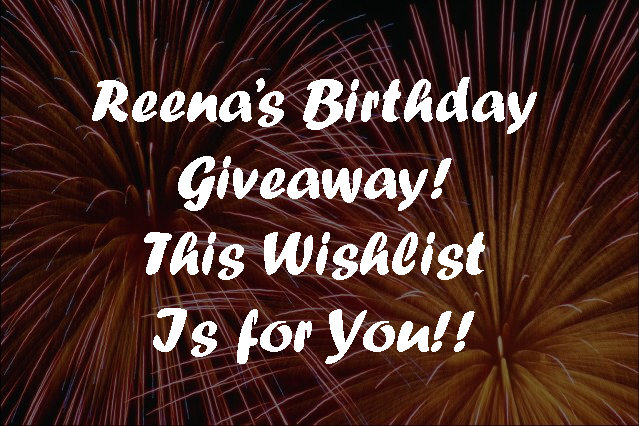 Copy and Paste Code
UPDATE 5/24/2010: We reached ten (10) followers, and we know what that means. Woot another book added to the pile! random.org selected Jennifer Mathis's comment (4). I narrowed it down to Christine Feehan's most recent book Wild Fire. Let me know if you prefer a different Feehan novel added instead. Thank you everyone for sharing with your friends. Keep it up and we'll add another book and then another winner!
UPDATE 6/15/2010: We bumped to twenty (20) followers today and get to add another book to the collection! random.org selected comment 3 Angie D–a Charlaine Harris novel. I narrowed it down to her short story collection (A Touch of Dead). Let me know if you prefer a different Harris novel added instead. We're only five (5) more followers to adding another winner!
UPDATE 6/25/2010: We reached a wonderful milestone! 25 followers. Best of all we get to add another winner! Odd thing about it though, there aren't many comments, which means few participants. So guess what? You're chances of winning are improving. 🙂 Good luck everyone, and keep spreading the word!
UPDATE 6/26/2010: With the end of the giveaway drawing near, we seem to have a slight influx of followers. Happy excitement, cause we hit 30 and get to add another book! Random.org chose Lucky number post 13! Marlene Breakfield suggested Blood Song by Adams. Wicked awesome cover.
UPDATE 6/27/2010: Wow! 40 followers! I'm beyond amazed. And I'm giddy about this next book. I want it! Random.org chose post number 29. Gaby requests The Darkest Lie by Gena Showalter. I might have to do some double ordering, cause I just can't see purchasing a copy without getting myself one too!
DISCLAIMER 6/28/2010: Is it too late for this? I feel like I'm cheating adding something after the fact. I can't help myself. We're so close to 50 followers I'm afraid it'll come and go without something special happening. ~~I reserve to modify the contest as I see fit.~~ There. I did it. Now! If we hit 50 followers I'm adding an additional prize to celebrate the event. In addition to the 25 follower rule wish list winner, another winner will receive a book of their choice worth up to $15 from the book depository. It can be from the wish list or not. Whatever you decide. So, we'll add 2 winners at 50 followers, not just 1!