You've come to the next stop on the Shadow Visions Blog Tour. Welcome! Welcome! Welcome. 🙂 Today we have Gabriella Hewitt, authors of Shadow Vision with us to share a bit about their writing. Yes… that's right, authors. 🙂 So let's get to the interview, shall we?
Reena Jacobs: Two authors, one name. Who is behind the pseudonym?
Gabriella Hewitt: Gabriella Hewitt is the pen name of creative writing talents Sasha Tomaszycki and Patrizia M.J. Hayashi. Together they weave tales of romantic suspense and dangerously sensual paranormals. Check out the website www.GabriellaHewitt.com to find out about upcoming releases and events on her blog.
RJ: How do you determine which book ideas to write?
GH: Our list of story ideas would put a child's Santa list to shame. ( : We have all kinds of sparks for new stories and new series. But we only have so much time and have to be realistic about what we can tackle. We have started stories and then put them aside if they don't seem to be coming together. Our agent says it as well, in today's publishing world you have to be able to produce, produce, produce. That doesn't mean we won't go back and try to rework those half-finished stories, but we will do so when we really know where they need to go and how to get them there. In the meantime, we'll move on to a story where all the ingredients fall into place and run with it.
It's no surprise then that we actually make a few attempts before we hit the right story to get a series off the ground. For both of us, plot tends to come first and we have to go back and really work on building characters. We'll see scenes in the story and then think of how to connect them together.
RJ: I like that strategy. What's the easiest part of the writing process?
GH: The research! We love to read history and we find mythology fascinating. Yup, we are geeks and are proud of it. Our favorite myths are Aztec, Greek, Egyptian, Norse, Caribbean and Celtic. You can see a lot of our research ends up in our stories. Shadow Warriors is based on Aztec mythology with a modern twist.
RJ: What's the hardest part of the writing process?
GH: Rejection. I don't think any writer truly gets over that hump but you learn to make the best of it. Gabriella Hewitt is two parts that make one whole. So we probably have more rejection letters than most writers combined. LOL!
RJ: Yeah… rejections are tough. With hindsight being 20/20, is there anything you would have changed with your publishing journey?
GH: Write. Write. Write. We began writing in 2005. Dark Waters is the first novel we sold in 2007 and is still one of our favorites. There was a long period between our first book and then for a long time there was nothing. Life got in the way. We've been given a second chance with the Shadow Warrior series and we know this time around that no matter what comes up that we need to get our butts in a chair and tune everything out. We now have a routine and make time to type.
RJ: I know what you mean. Seems like everything can get in the way of writing if one lets it. Do you have any advice for other writers?
GH: Think big, dream big and go big. Never stop believing that you will be big someday. Very few writers grab that gold ring on the first try. Study craft, keep writing, and don't give up. The market is changing rapidly, which means there are more and more opportunities for writers to succeed.
RJ: Anything special you'd like to say to readers?
GH: There is always something going on at our blog http://www.GabriellaHewitt.com
We even have two free recipe ebooks on Puerto Rican and Latin American cooking that we are giving away as freebies.
RJ: What are you working on now?
GH: Currently, we are working on the third novel in the Shadow Warriors series, a modern day paranormal romance based on Aztec mythology filled with excitement, suspense and passion. SHADOW VISIONS is the second book in the series and is available now from Samhain Publishing. The first book, OUT OF THE SHADOWS, is also available.
We also have another installment in the Ever After series planned to be released later in the year.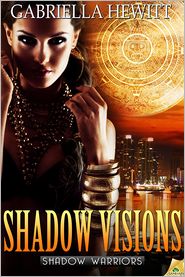 SHADOW VISIONS (c) 2012 Samhain Publishing
Manuel has been tracking down a demon bent on sacrificing women with hummingbird tattoos. He is in danger of losing his humanity to his eagle spirit until he comes across Ixa Reyes, a beautiful San Diego Detective working on the same case, who also bears the mark of Huitzilopochtli. She is his salvation and redemption from a past filled with failure. Only she wants nothing to do with him or her heritage.
When a demon kidnaps her grandfather, the wind god, they must work together to save him and all mankind. He has twenty-four hours to help her control her elemental power over wind, that is if he can control his own desires to claim her body and soul. Because if he should fail, then the god of war will bring in a new era filled with blood and destruction.
When the last Shadow Warrior falls, so will humanity.
Available at Barnes & Nobles || Amazon
Follow the Tour!
Sunday May 6, 2012   Kate, I Just Wanna Sit Here and Read!, Bio/Excerpt/Synopsis
Monday May 7, 2012  Susan, A Soul Unsung Guest Blog
Thursday May 10, 2012   Reena, Ramblings of an Amateur Writer, Interview, Give Away
Friday May 11, 2012   Ali, Simply Ali, Interview
Wednesday May 16, 2012  Lisa, Bodice Rippers, Femme Fatales and Fantasy, Review
Friday May 18, 2012 Shauni, Tea and Book Guest Blog
Monday May 21, 2012  Kate, I Just Wanna Site Here and Read, Bio/Excerpt/Synopsis Give Away
Friday May 25, 2012   Suzie, Books Reviewed by Bunny, Interview
Friday May 25, 2012  Amber, Sapphyria's Steamy Book ReviewsBio/Excerpt'/synopsis
Tuesday May 29, 2012  Jess, Wonderland Reviews Review
Tuesday May 29, 2012  Molly, Reviews by Molly Review
Thursday May 31, 2012  Melissa, Adventures of a Frugal Mom, Review
Thursday May 31, 2012  Damaris, Good Choice Reading Guest Blog Give Away
June 5, 2012  Mel, Journey with Words, Guest Blog, Give Away
June 5, 2012  Shae, Understanding Shae's Story Review
June 7, 2012  Danielle, Ramblings from this Chick, Bio/Excerpt/Synopsis, Give Away
June 7, 2012  Molly, Reviews by Molly Guest Blog
June 11, 2012  Nikki, Storm Goddess Book Reviews & More Review
June 11, 2012  Jessica, Wickedly Bookish,  Guest Blog
June 13, 2012  Stephanie, Miraculous, Review
June 13, 2012  Liz, Fictional Candy Bio/Excerpt/Synopsis
June 13, 2012  Melissa, Adventures of a Frugal Mom, Review, Guest Blog
June 16, 2012  Susan, A Soul Unsung, Bio/Excerpt/Synipsis, Guest Blog
June 16, 2012  Michelle, Indie writers review, Review
June 16, 2012  Jessica, Wickedly Bookish, Interview