I don't do very many reviews these days, but when presented with the blurb of Someone Else, Somewhere Else by Jenelle Jack Pierre, my interest perked. I loved the cover art. It has a youthful freshness to it and makes me think of innocence in the world. Then when I found out Someone Else, Somewhere Else was a short story, I was totally in. 🙂 Before the review, the blurb.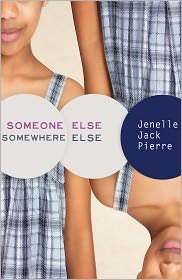 "Though we were four years younger than Ariya, we'd watched teenagers before at an older cousin's house. They talked on the phone, they texted their boyfriends, they watched movies on DVDs. Sometimes, they tidied up the house by wiping the table with a damp sponge after feeding us, removing the crumbs and ring spots from the bottom of our glasses. But we'd never seen any of them work like Ariya did."
Twin sisters. Stepdaughters. Neighbours. In this short fiction, the lives of the twins are forever changed when their mother remarries and they move next door to a family unlike their own. Could their lives have been different with a flip of a coin?
The first thing I noticed about this work was the narrative. I don't recall ever reading a work in first person plural. This story was told from the perspective of both the twins, which doubly interesting because the twin girls (main characters) in the story were nameless. The narrative was presented in such a way it gave the two girls a collective thought. For me, the over all effect made Someone Else, Somewhere Else a worthy read if only for analysis.
As for the story itself, Someone Else, Somewhere Else was thought provoking. Not only was it a reminder we don't get to pick the families we're born into, but that children have even less say in the hand they're dealt. They get what they get and adjust the best they can. I finished this story wondering if I protected my children effectively from the harm always around the corner, and hoping their childhood memories will be filled with enough joy to outweigh the bad.
This read left me with a bittersweet sadness, and I hoped Ariya found happiness in her choices. I say if you have 20-30 minutes of spare time, check out this read.
Last I checked, this is a free read. Don't miss your opportunity to try it out.
Available at Barnes & Nobles || Smashwords || Amazon
Also, be sure to return on Thursday. Jenelle Jack Pierre will be here for an interview!