It's not often a story catches my attention enough to commit to a review, but Someone Else, Somewhere Else reeled me in (review here). Today, the author, Jenelle Jack Pierre, is here to share a little about herself.

Reena Jacobs: I devoured Someone Else, Somewhere Else in one sitting. I have to admit, I'm quite drawn to endings with imperfect solutions. Will you tell the readers a little about Someone Else, Somewhere Else?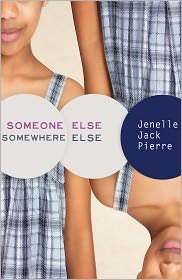 Jenelle Jack Pierre: Someone Else, Somewhere Else is about twin sisters who move to a new neighborhood and become friends with their neighbors. The story delves into how two 'similar' families can be totally different. Its told in the first-person plural because of the closeness of the main characters.
RJ: I found the first-person plural an interesting route. I've never read a book like that. Very cool. I notice you have quite a few short stories under your belt. Short stories and novella are definitely my thing these days. Please share with us your inclination to write short stories?
JJP: I think short stories allows a writer to dive into different worlds and build a fictional life that doesn't necessarily need 100 or more pages.
RJ: One of the pieces of advice you give to writers on your website is "be bold enough to experiment with more than one genre if that suits you." Surfing your writing portfolio, I see you take your advice to heart. Even though you've written in a few genres, do you find your works have a common theme? And if so, what?
JJP: I've never thought about my work having a common theme. But now that you ask, I think yes. It would be: Decide for yourself
RJ: I like that. It's very pro-active. I saw the "decide for yourself" aspect in Someone Else, Somewhere Else. How much of you/your life do you put into your stories?
JJP: I would say zero. It's all make-believe. I would add though that writers' stories are created from their minds, so if a character loves Twizzlers, it may or may not be because the writer knew someone who loved Twizzlers. He or she might not sit down to think of why they chose Twizzlers, it's just there, ready to pull.
RJ: Which author has inspired you the most?
JJP: Jhumpa Lahiri
RJ: Jhumpa Lahiri is a new name for me. 🙂 I had to look her up. I love reading about the cultural aspects of 1st and 2nd generation Americans. I've been an Amy Tan fan since my teenage days. Thank you for giving me another author to enjoy. What are you working on now?
JJP: A short story collection called "Love's Onlookers."
RJ: We'll have to keep an eye out for "Love's Onlookers." 🙂 Anything special you'd like to say to readers? 
JJP: I hope you enjoy reading "Someone Else, Somewhere Else." I appreciate any feedback through your review.
At the time of this post, Someone Else, Somewhere Else is available as a free read at:
Barnes & Nobles || Smashwords || Amazon
About Jenelle Jack Pierre
I was born in Trinidad and raised in Maryland. My parents encouraged my love of reading with lots of books. I'm an only child, which means I'm good at board games, especially Scrabble.
I started writing as a way to entertain myself, mostly poetry. I majored in Communication Studies at the University of Maryland, College Park and after college, I became a media researcher (radio) at a PR software company. Soon after that, I interned and studied writing at Johns Hopkins University.
Before I Breathe is my first YA novel. I also write contemporary short stories.
I have a variety of interests apart from writing, including reading, hanging out with my husband, cooking, and traveling.
Follow the Tour!
Giveaway Time
Jenelle Jack Pierce is giving away a copy of her YA Novel, Before I Breathe.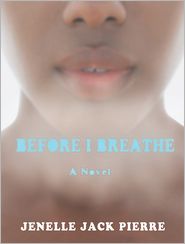 Thought she met the right boy. Left home. Now her life's turned upside down.
Kalena Moore is a Montgomery High student who isn't into school. Her friends think her classmate, Isaiah Wilkins, is trouble. Life becomes more interesting when Kalena starts dating Isaiah, but soon things spin quickly out of control and she gets pregnant. Then Kalena sees another side to her boyfriend. Determined to put her life back together, Kalena takes a new path, navigating the pitfalls along the way.
Available at Barnes & Noble
For an opportunity to win, leave a comment here or on the review post. 🙂 And don't forget to leave your email so we can contact the winner.