Before You Self-Publish, Learn From My Mistakes
By Aaron G. Niz
So you wanna publish an ebook?
You want to be the next Amanda Hocking, Karen McQuestion, JA Konrath, etc. etc.?
Join the club.  That's what I wanted, too.  I'm a newbie at the e-publishing game, and if you're considering taking the leap into this business, it might be nice for you to have an idea what you're getting yourself into.  It's one thing to read about Amanda Hocking putting a book on Amazon and then suddenly finding her book was selling thousands of copies, and another thing entirely to try and replicate her sales numbers.
Most authors will not have the amazing experience that Amanda has had this past nine months.  I sure haven't.
Don't get me wrong.
I'm absolutely stoked about this new technology and the fact that Amazon sold more kindles this year than any other product in their history (including Harry Potter books).
Yet for an unknown author with no platform, this is still a very tough game to enter.  This is writing and publishing we're talking about, not little league baseball.  It's a tough, unforgiving, brutal business.
So if you're really considering self-publishing, I'd like to prepare you a little by talking about how it's been for me so far.
Less than a month ago, I decided to make the jump to self-publishing my own ebooks. I did this after reading JA Konrath's blog and hearing the success stories of other writers (like Scott Neumyer who sold nearly a thousand copies of Jimmy Stone's Ghost Town in one month). It dawned on me that I had five unpublished books that I thought were pretty darn good.
Were they perfect?  No.  But all of them had been taken on by established agents at one time or another and a few had even made the rounds to the big New York publishing houses.  Most of what I heard back when I was inevitably rejected by these editors was that the market wasn't right for my books.  Maybe they were letting me down nicely.
In any case, I felt that my books had as much right to go up on Amazon as a lot of the other books being self-published.
I initially published a humorous parody of 7 Habits of Highly Effective People.  My version is called 7 Habits of a Highly Ineffective Person (Plus Three Other Habits that are Pretty Bad Too).  I wrote it nearly a decade ago when I was in my mid-twenties, living with my parents, working part time, and generally feeling pretty crappy about myself.  It has a kind of goofy, dark, adolescent humor to it.
After hastily putting 7 Habits on Amazon, I set up a blog called "An E-Publisher's Manifesto" to chronicle my journey, a twitter account, and then I began trying to market the book.
Within a short time my blog began picking up a lot of interest from other authors, which surprised me.  I didn't expect people to be so helpful and forthcoming, but after few days I had a group of "regulars" who commented, gave me advice, and even bought and reviewed my books.  Yes, books plural.
That's right, within days of publishing 7 Habits, I went ahead and published the rest of my "backlist."  People kept telling me that having multiple titles was really important if you wanted to see sales increase.  And besides, I was so darn excited!
And that over-anxiousness is where I made some major mistakes.  The covers of my books are very uneven in quality.  I think two of them–COMPELLED and 7 HABITS–have fairly decent covers.  The others, not so much…
My blog readers informed me that they were having trouble figuring out what genres my books fit into, and some found the covers strange or off-putting.  My wife and I made those covers on our own using simple software and stock images.  We didn't take an appropriate amount of time to work on them, and they suffered as a result.  As have my sales on those novels.
I also found formatting to be a challenge, and the copy inside the books doesn't look the way I wanted it to.  This is because Amazon and Barnes and Noble's publishing tends to change the document a bit and so you need to have a little knowledge and do some research to make sure things don't go screwy translating from a word doc or html into the e-pub formats.
These are things that I still need to fix, and in the meantime, pray that no bad reviews come in because of my negligence (so far I've had only great reviews–knock on wood).
When I'm not busy praying for good reviews or sales I'm busy doing everything in my power to get the word out about my books.
Which brings me to my next point.  This whole thing is a grind.  Since I began e-publishing and marketing my work, I've been sleeping less.  Waking up in the middle of the night with racing thoughts, compulsively checking my sales numbers and blog hits. Writing new posts, reading other bloggers and interacting with them on their sites. Checking and responding to emails.  Twittering, tweeting, all of it–hell, sometimes I just yell out my back door.
Lately my head's always in the laptop or iPhone.  And that leaves me very little time to do anything else.  Like write new material.  After all, the whole idea behind this gig was to have the freedom to write books.  But how can I write a new book when I'm spending 24 hours a day marketing the old ones?
Emotionally it takes a toll.  There's disappointment. Slow sales days, dipping blog traffic, mixed reviews (or no reviews).  Watching your book somehow climb onto an Amazon list and then slip off that same list in a matter of hours.
All of these things contribute to a feeling of anxiety.  I've had, in some ways, more success than I imagined I would.  My books have sold over 70 copies in under a month. Not anything to run and call family members about, yet something that gives me a lot of pride and happiness.  But in order for these sales to continue, I need to continue.  I need to keep working and slogging away at the business side of things while still doing creative work so that I can add to the back-list and hopefully increase my online presence.
Not to mention, I still need to attend to a little thing called my real job–that thing I get paid for.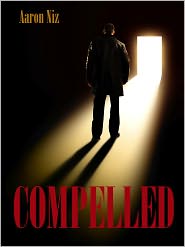 Self-publishing is a lot to take on and you'd better be ready for all of it. This is an exciting time for authors and readers.  If you're an author, start taking notes and getting ready to jump into the fray.  If you're a reader, take a look around in the 99 cent bin on Amazon.  You might find some pretty great bargains!
Aaron Niz has written five books, including COMPELLED, which can be found on Amazon or Barnes and Noble.  Aaron's blog, An E-Publishers Manifesto, chronicles his successes and failures in e-publishing and he would love to talk more with you there.  Please visit!
Compelled is Barnes & Nobles || Amazon